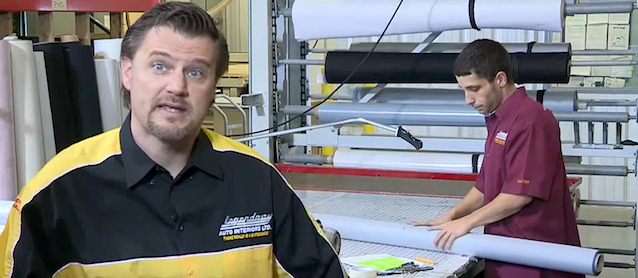 The latest addition to our "Dream Garage" is the Vidir Textile Carousel, a magnificent machine that eliminates the need for extensive shelf space — so long as your shop's roof is high enough.
The Textile Carousel is a motorized storage system for rolled materials. It maximizes floor space by storing rolls vertically front to back. Any roll can be retrieved by the push of a button.
Vidir offers carousels in a range of sizes and capacities — from a 7'6″ tall system that stores up to 12 rolls to a 19'2″ behemoth that can hold 32. Various models accommodate rolls 6′ to 15′ in width and 12″ to 38″ in diameter.
What's more, Vidir's carousels can be used solely for storage or paired with a cutting table for maximum convenience and efficiency. In fact, that's exactly what Legendary Auto Interiors in Newark, New York, did with theirs:
So how much does a system like this cost? We spoke to Vidir rep Dean Dueck, who told us: "The average cost of a carousel similar to what we did for Legendary Auto Interiors would be $20,000 – $25,000 … Legendary Auto Interiors received a Carousel that was designed around their space requirements with advanced features such as automatic retrieval, dual controls for rear loading, and specialized carriers designed to provide material tension when feeding a cutting line directly from the Vertical Carousel. More basic systems can start at $10,000 – $15,000 before advanced automation and customization additions."
If you're thinking the machine is too expensive and better suited for suppliers than trim shops, you're probably right. But this is The Hog Ring "Dream Garage" — so anything goes! In fact, we might just install one next to our Rexel pneumatic lifting table and Polymaster fabric rolling machine!
What do you think? Is there room for a Vidir Textile Carousel in your dream garage?