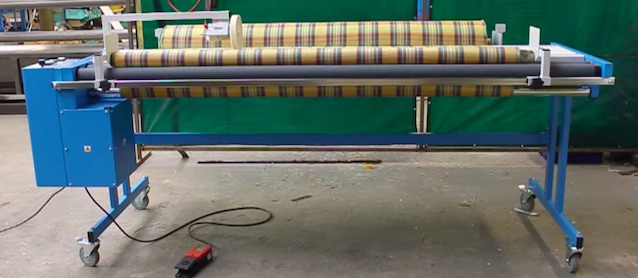 The latest addition to our "Dream Garage" series is a tool that makes organizing an auto upholstery shop's fabric and vinyl rolls a breeze. The Polymaster PM-II 180 is an automatic measuring and rolling machine that no fantasy shop should be without.
The PM-II 180 has a variable speed dial that allows trimmers to walk any material up to 71″ wide slowly or let it rip. There's also a 12″ inspection surface and a rolling counter to measure every inch of the fabric. It works via foot pedal and is available with an electric cutter.
The machine is rather large, measuring 82″ wide by 42″ high and 40″ deep. It also weighs a whopping 242 lbs. But assuming your dream garage is big, its size shouldn't be a problem.
The PM-II 180 serves multiple purposes. Not only does it measure how many yards of material are on a roll, its 12″ inspection surface allows trimmers to quickly check fabric for flaws before starting a job. Use the machine to ensure that orders are correct, keep better track of inventory, cut material for resale or just rewind a sloppy roll.
Of course, there are other ways to measure rolls of material without unwinding them — including this useful Fabric Roll Calculator. However, nothing beats the accuracy of the PM-II 180.
Check out the machine in action:
To learn more about the Polymaster PM-II 180, Polymaster.co.uk.
Tell Us: Is there room for a Polymaster PM-II 180 in your "Dream Garage"?