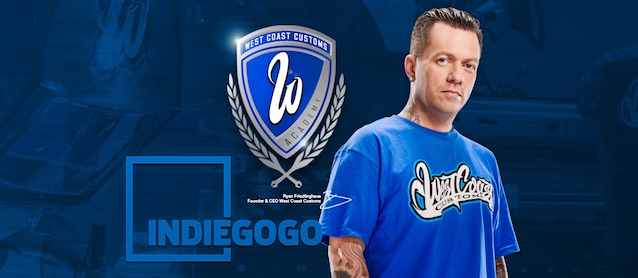 West Coast Customs, the garage that turned an entire generation onto vehicle customization through their hit MTV show "Pimp My Ride," recently announced plans to launch West Coast Customs Academy, a trade school dedicated to providing first-class training in everything automotive — including upholstery.
According to the shop's press release:
The goal of West Coast Customs Academy is to motivate, train and provide students with technical skills relative to the automotive aftermarket trades. The Academy offers a comprehensive 48-week training program featuring a curriculum format comprised of six trade-level instructional segments including Auto Body, Upholstery, Fabrication, Wheels and Tires, Electronics, and Wrap and Tint. The rigorous program provides students with both in-depth classroom time taught by leaders in the customization industry and hands-on training and project work at the world-famous West Coast Customs facility in Burbank, CA.
In a video posted to Indiegogo, where WCC founder Ryan Friedlinghaus is raising money to help fund the project, he states: "It is unfortunate that many high schools are unable to offer wood shop or automotive classes any longer and I feel that high-quality hand-craftsmanship work is a dying art form. I would like to help bridge that gap, give back to my community, bring in younger generations and build new talent at the all-new West Coast Customs Academy."
Donors who back the project are eligible to receive a slew of gifts, from t-shirts to a "pimped" Cadillac Escalade, depending on how much they give.
https://www.youtube.com/watch?v=RW2JbLUQs3M
West Coast Customs Academy is slated to start classes in early 2017. No word yet on cost, but the Indiegogo page alludes to a $40K tuition — which is definitely pricey. In true WCC style, the academy will kick off with a two-hour special on FOX Sports.
To learn more, visit WestCoastCustoms.com. To contribute to this project, visit Indiegogo.