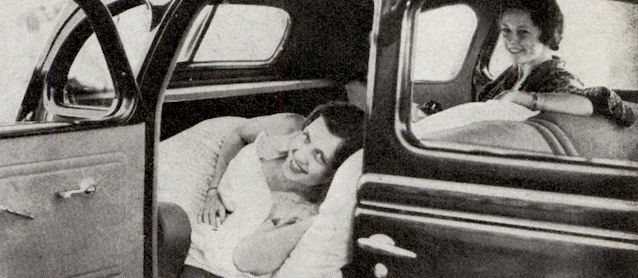 In the 1930s, several automakers — including Nash Motors — debuted seat configurations that allowed drivers to transform their interiors into mobile bedrooms. At the time, the technology was viewed as a revolutionary advancement in cabin design.
The "Bed-In-A-Car" feature, as Nash Motors called it, was a simple concept: By fastening a locking hinge to the rear seat's back cushion, drivers could drop it level to the trunk floor and create an opening between the cabin and luggage compartment. Tired passengers could then unfurl a cushion across the open space and slide inside, with their upper half in the cabin and lower half in the trunk.
A 1936 issue of Popular Science magazine explains:
SEDANS of two popular makes are now offered with back seats which can be converted into comfortable beds more than six feet long and over four feet wide. Cushions have been so designed that they can be moved forward and laid flat like Pullman sleeping-car seats to form a foundation for bedding. The foot of the improvised bed extends into the rear luggage compartment, baggage being transferred to the front seat for the night. When not in use as a bed, the car interior bears no trace of its dual function. The car appears to be a standard, conventionally equipped automobile. The convertible car is expected to prove popular with fishermen, hunters, campers, and tourists who want sleeping comfort without the expense of hotel accommodations or the inconvenience of transporting bulky tents and camping equipment. The car also provides the means of visiting and staying in distant regions which have no hotel or tourist accommodations.
The bed was large enough to accommodate two adults, which of course made it not only popular with fishermen and hunters, but also frisky teen couples in need of some private time.
Check out the original article below: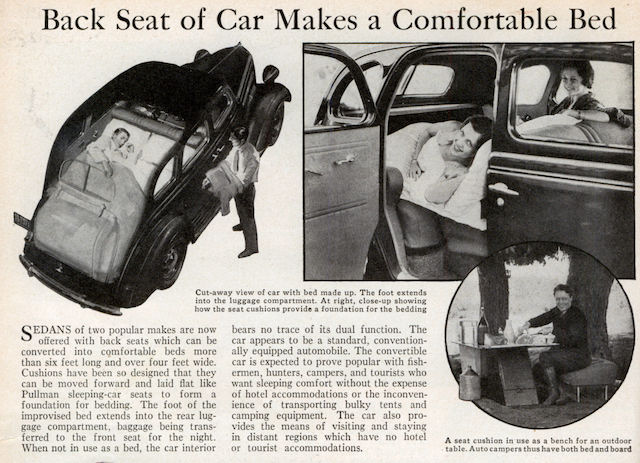 For more cool articles about old car interiors, check out The Hog Ring's "Industry History" section.