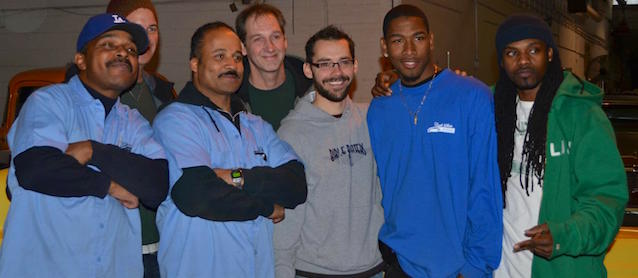 In the midst of Chicago's violence epidemic is a hotrod builder who is using his skills in automotive restoration to lure at-risk youth out of gangs and into garages so that they stay out of trouble, learn a new craft and become productive members of society.
Alex Levesque is an industry veteran who invests all of the profits from his restoration shop into Automotive Mentoring Group, a nonprofit organization he founded in the 1990s to give youth in South Side Chicago an alternative to gang-banging.
To recruit youth for his program, Alex regularly drives his hotrods through the city's roughest neighborhoods. Without fail, the cars attract stares and comments from teens and young men on the streets, who he then engages in conversation — talking about everything from paint to upholstery.
He invites those who show a particular interest in the cars to participate in Automotive Mentoring Group, which — in collaboration with other automotive pros— teaches mechanic, body, paint and upholstery work.
"My belief is that the only way you can change what people do is if you change the way they think," Alex recently told CBS Chicago.
"There is a large percentage of those gang members that want to get out of that gang life, but they don't feel like they have an alternative."
Automotive Mentoring Group aims to be that alternative. The program is six-months long and even helps with job placement. In fact, 85% of the program's 300+ graduates have found work in the automotive restoration field, according to CBS Chicago.
Apparently, youth who complete the program are finding work easily because they're talented and hardworking.
A recent article in the Chicago Sun Times observed: "The miracle of AMG doesn't really sink in until you visit the auto shop. What you will see are classic autos that have been so meticulously restored, it is hard to believe the work was done by young men who used to stand on street corners gang-banging, drug-slinging, and getting high."
Alex credits Automotive Mentoring Group's success to the allure of cars.
"I knew if I could get these younger guys involved that it would be all that they would think about — building the next car, getting the next part or going to the next show," he told The Shop magazine in 2013. "You don't have time to get in trouble because once you get involved with cars, it consumes all of your time and your thoughts."
Of course, Automotive Mentoring Group isn't the first initiative to present automotive restoration as an alternative to crime. In the past, we reported on Southern Desert Correctional Center, a Nevada prison that teaches inmates the craft of auto upholstery.
Individual upholsterers — including Edward Brumfield of Hi Class Customs in New Orlean, Louisiana — have also opened up their shops to at-risk youth and former inmates.
Their efforts aren't in vain. In 2015, Ish Jimenez of Royal Auto Designs in North Hollywood, California — but most widely known as the charismatic trimmer on MTV's hit show "Pimp My Ride" — told us that he was once an at-risk youth who found purpose and even world-wide fame through auto upholstery.
Initiatives like these should be celebrated throughout our industry. Not only are they saving lives and making society better, but they're ensuring that our craft continues to live on.
Support Automotive Mentoring Group: Consider making a small donation to help Alex buy needed uniforms and tools for recruits. The organization will also accept old, beat up cars for participants to practice on.
To check out Automotive Mentoring Group's work, follow them on Facebook, Twitter and Instagram.