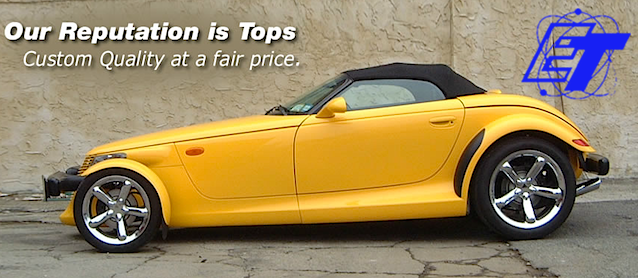 This month, Electron Top mailed a flier to all of its customers asking: "Why take a chance damaging your name by installing a 'Brown Box-No Name' convertible top?"
In this new age of convertible top sales — where people can buy inferior, off-brand tops online for a fraction of the price — it's a question worth pondering. Especially if your shop has experienced an uptick in the number of customers who bring in their own tops for installation.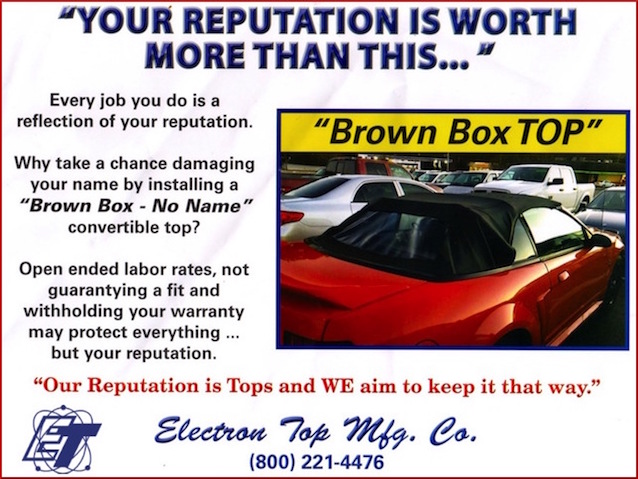 Electron Top is one of the few convertible top manufacturers in our industry that manufactures its products in the USA and does not sell directly to the public, so as to protect small, independent auto upholstery shops.
In another flier mailed to customers this month, the third-generation, family-owned business explains:
"Our family has been manufacturing our convertible tops in the USA since 1960. WE help support American Manufacturers when WE buy our raw goods, our community when WE hire local residents and our Country when WE pay our taxes. Who do you support with your purchases?"
Of course, convertible tops aren't all that Electron Top sells. Turn to page 17 in their 2016 Catalog (which you can read online by clicking here) for a full list of products they carry — from cleaners to shears, thread and even zippers.
null
To learn more about Electron Top's quality convertible tops or to set up a business account, visit ElectronTop.com or call (800) 221-4476.