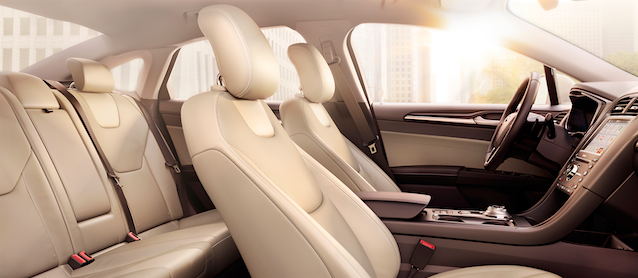 How many electronic devices does the average American carry at any given time? A smartphone, smartwatch, tablet, laptop, mp3 player, e-reader, mobile gaming device, etc.
To accommodate the growing list, Ford Motor Company actually had to redesign the interior of its 2017 Fusion. How's that for a sign of the times?
In an article titled "Americans carry around so many electronic devices that Ford had to rethink the car interior," Automotive World explains:
Roughly one in three Americans now own a smartphone, a computer and a tablet – a 140-percent increase over the last three years, according to Pew Research Center. Among U.S. adults today, 68 percent have a smartphone, up from 35 percent in 2011, while tablet computer ownership has edged up from 3 percent to 45 percent. Research also finds some 14 percent own a portable gaming device, while around 19 percent have e-book readers.
To accommodate all of these devices, Ford engineered 59 percent more storage into the Fusion console, adding easy-to-reach bins throughout, including a new phone pocket and area for small coins. To provide a 4-liter increase to the main console storage area, the armrest has been lengthened about 3 inches, and a clamshell design has been incorporated for the upper compartment to make the space more accessible and user friendly.
The revamped media bin at the front of the console, under the 8-inch touch screen, sees the addition of a lighted USB port for increased connectivity on the forward wall. A narrow new storage slot behind it is perfect for a cellphone and other small items.
The rearrangement provides room for more efficiently designed cord storage space, so cords don't tangle, droop or snag. The new USB port allows for easier phone connection, so customers can enjoy the full functionality of SYNC 3 and AppLink.
That's not all. For every new or modified feature Ford added, it had to alter another element of the car interior to make sure everything made aesthetic and ergonomic sense. By the time they were finished, the Fusion's interior was entirely redesigned.
Automotive World says the end result is a state-of-the-art interior that provides increased connectivity and more storage without making passengers feel cramped or overburdened by technology.
And that's just the start. As personal technology continues to evolve, so will car interiors — and with them, our craft. After all, we're the folks who have to fix it all when things tear and break.