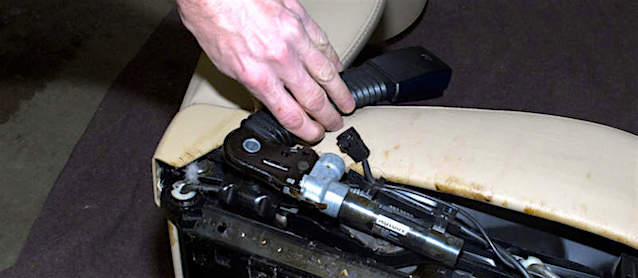 Every auto upholsterer has seen a pretensioner, that bulky mechanical component attached to the end of a seat belt buckle. But how many actually know what it is or how it works?
YouTube stars The Slow Mo Guys recently triggered one on camera and slowed the footage to 28,000 frames per second so we could see it in action.
A pretensioner, of course, is the locking mechanism that instantly tightens a seat belt. In the event of a car accident, it restrains a passenger to reduce the risk of injury.
Mercedes-Benz introduced the technology 35 years ago on the S-Class. Since then, it has saved millions of lives.
There are a few different types of pretensioners. However, the most common – pyrotechnic pretensioners – use explosively expanding gas to drive a piston that retracts a seat belt buckle during the first moment of an auto accident, thereby tightening the seat belt.
In real time, the process occurs in a matter of milliseconds. However, Gavin Free and Daniel Gruchy, The Slo Mo Guys, used special cameras to capture a pyrotechnic pretensioner retracting a buckle in extreme slow motion.
Check out the video:
What do you think? Does understanding how pretensioners work increase your confidence in seat belts? Tell us in the comments section below.
[Photo by Pelican Parts]