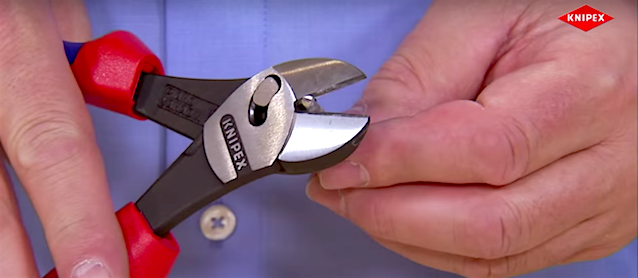 No auto upholstery shop's toolbox is complete without a pair of diagonal cutters. This multi-use tool is great for snapping hog rings, cutting wires, removing staples and an endless array of other tasks. That's why trimmers always have one by their side.
The good folks at KC Tool recently sent us a pair of Knipex Twinforce Diagonal Super Cutters to test. Check out our review below and find out how you can win a pair.
Who is Knipex?
Knipex is a manufacturer of high-grade pliers, cutters and other hand tools for general use and specialized trades. It's a German company that's been in business since 1882, and competes in the same class as SnapOn and Mac Tools.
What's so special about their cutters?
The Twinforce Diagonal Super Cutters' unique double-hinged design sets it apart from competitors. The innovative hinge significantly increases leverage, allowing users to slice through metal using only 50% of the force required by other premium models.
The cutters are forged from chrome vanadium heavy-duty steel, and are available with or without comfort grip handles. I highly recommend the grip handles. They add a bit of bulk, but significantly increase comfort.
How well do their Super Cutters work?
These cutters are damn good. In fact, they're probably the best pair I've ever used.
Not only did they slice through hog rings like butter, they tore through just about every piece of wire, hardware and small piece of metal I could find.
Knipex says the limit is about a 5/32″ wire, but you'll have to reapply the cutters two or three times. In our craft, that's plenty thick.
Best of all, they cut with ease. Trimmers need only apply 39.6 lbs of pressure to slice through a 1/8" nail, according to Knipex. That's just one-third of the pressure that competing cutters need to cut through the same size nail.
I was particularly impressed with how well the cutters retain their bite. After days of testing, putting the cutters through the wringer, they still didn't need sharpening.
Check out the following video to see the cutters in action:
The only downside to these cutters is that they can be difficult to fit into tight spaces. At 7 ¼" length and 0.5 lbs weight, they're not big. But they're not very small either.
Anything else you'd like to add?
Investing in quality tools pays dividends. If you use your cutters as often as I do, you'll want a high-quality pair. I highly recommend the Knipex Twinforce Diagonal Super Cutters. Trust me, you won't be disappointed.
Where Can I buy Knipex's Twinforce Diagonal Super Cutters?
Knipex Twinforce Diagonal Super Cutters (model no. 73-72-180) are available through KC Tool, America's #1 German tool distributor.
The cutters retail for $88 – which is on the high end. But when it comes to hand tools, you really do get what you pay for. Plus, Knipex offers a lifetime warranty.
To order a pair online, visit KCToolCo.com.
Did you say I can win a pair?
That's right! Today only, share a photo of your cutters on Instagram and use the hashtag #TheHogRing and #KCTool. We'll pick one winner to award a free pair of Knipex Twinforce Diagonal Super Cutters.