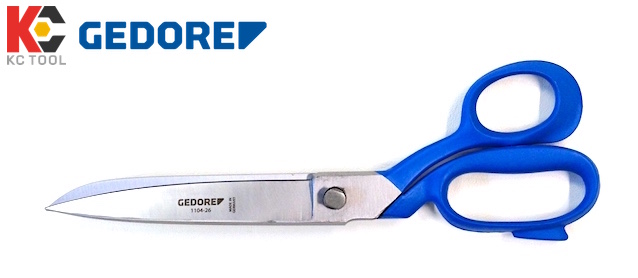 No hand tool is more essential to the craft of auto upholstery than quality scissors. That's why most trimmers spend years testing different brands and models, searching for the perfect pair. And after they find one, it never leaves their side.
To help us in the hunt, the good folks at KC Tool recently sent us a pair of Gedore Craftsman Scissors to test. Check out our review and find out how you can win a free pair.
Who is Gedore?
Gedore is a manufacturer of high-quality hand tools. It's a German company that's been in business since 1919. Today, they manufacture more than 18,000 tools that are available in 70 countries.
What's so special about their scissors?
Well, let's break it down section by section…
The Blades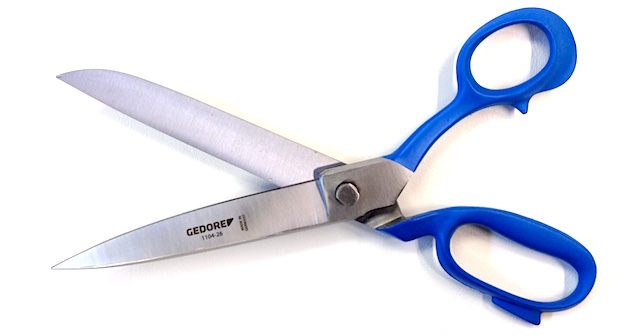 Gedore Craftsman Scissors are forged entirely from chrome-plated C45 carbon steel, which means you'll never break them and the blades will withstand years of sharpening.
The blades come already sharpened to a razor's edge, so no need to worry about that. We tested the 10″ blades, but the scissors are also available with 7″, 8″ or 9″ blades.
The Tip

Inferior scissors struggle to cut with their tips, but not this pair. Its strong blades come to a very fine tip, pointed enough to stab holes through tough fabric and sharp enough to cut v-notches with absolute precision.
The Handles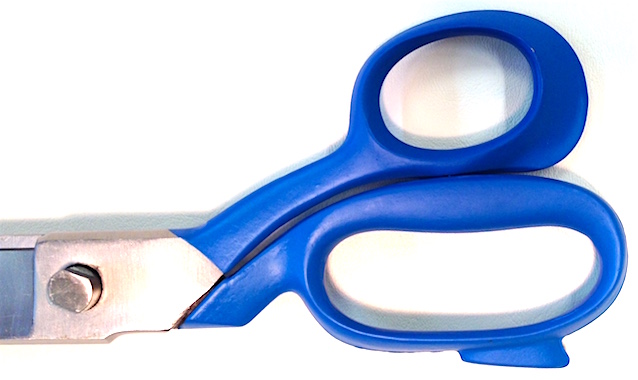 The scissors' handles are not separate from the blades. Rather, they're forged from the same chrome-plated C45 carbon steel. This ensures that they'll never break on you.
The handles are painted in Gedore's signature shade of royal blue, which I have to admit is surprisingly useful. All of my other scissors are black and silver, which makes them difficult to spot on a crowded tool bench. Fortunately, that isn't a problem with these brightly colored handles.
Another cool feature is a nifty lift added to the bottom of the lower handle to keep your hand elevated and protect your knuckles from scrapes when dragging the scissors across a cutting table. It's a simple, yet practical design.
My only complaint is that the lower handle with the larger opening is a bit too small to fit my four fingers comfortably. My hands are average size, so trimmers with large hands will either have to squish the fourth finger in there or simply use three instead. It's also worth noting that the scissors lack comfort grips, though I personally didn't find that problematic.
So how well do the scissors work?
We put our Gedore Craftsman Scissors through the ringer and were extremely impressed with the results. The razor-sharp blades cut through cardboard, leather and multiple layers of carpet jute with ease.
There aren't a lot of moving parts, but if you have to make adjustments simply tighten or loosen the single screw that holds the blades together.
Compared to other popular sheers, the Gedore Craftsman Scissors are on par with the Kai 7280 in terms of quality and performance. It's definitely better than most Wiss models we've tested.
Where Can I buy Gedore Craftsman Scissors?
Gedore Craftsman Scissors are available through KC Tool, America's #1 German tool distributor.
The 10″ scissors we tested retails for $90.78. However, shorter blades sell for less, starting at $58.94. The scissors are definitely not cheap, but you do get what you pay for. These scissors are built to last a lifetime.
To order a pair online, visit KCToolCo.com.
Did you say I can win a pair?
That's right! Today only, share a photo of your scissors on Instagram and use the hashtags #TheHogRing and #KCTool. We'll pick one winner to award a free pair of Gedore scissors.