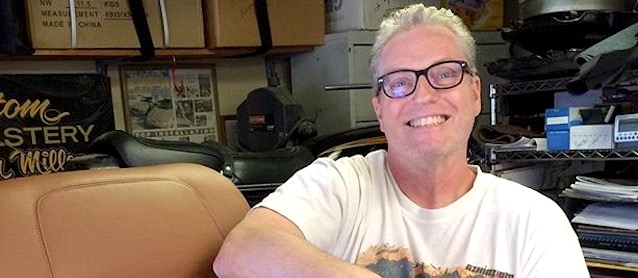 The VLF Force 1 — an all-American supercar developed by former General Motors Vice Chairman Bob Lutz, entrepreneur and manufacturer Gilbert Villarreal and world-renowned automotive designer Henrik Fisker — debuted to critical acclaim at last month's Detroit Auto Show. Enthusiasts were especially captivated by its handcrafted leather interior that was completed by master trimmer Dan Miller.
Impressed with Dan's work, we caught up with him to chat about how he landed the job of upholstering the VLF Force 1 and what the process was like. Dan answered all our questions and provided great insight on upholstering cars at the highest levels of the automotive industry.
What follows is a transcript of our conversation:
You've had a long working relationship with Henrik Fisker. How did that come about?
Back when I had my shop, I used to do all the work for Designworks, a company in Agoura Hills, California, which BMW wound up buying out — so it's now called BMW Designworks. That's where I met a lot of automotive designers. I met Fisker. He was head of BMW Design for a long time.
How many vehicle interiors have you fabricated and upholstered for Fisker?
For him personally, not counting when he was with BMW, I would say I've done three cars and a motorcycle, but numerous little odds and end parts.
How did you get the job of upholstering the VLF Force 1?
Henrik called me and said, "I need to see you at the LA Auto Show." … So, I went out and met him… He said, "We need you in Detroit to do a car. You willing to go out to Detroit?" I said, "Well, sure. Of course." I set my pay scale. I said I want all my expenses paid. [They said,] "Oh, yeah, no problem."
Did they have a sewing room ready for you at their plant?
I talked to them on the phone, and after that I said, "They don't have a machine there." He goes, "You go buy any machine you want … give us the invoice. We'll have it paid and shipped, and it'll be here before you get here." So, I called Mal up at NC Carpet Binding & Equipment. I never bought from him before, but I love the fact that he's on Facebook and he talks about what he can do. I just like that. I just like their business. I don't know what it was, but I really dug them. I called them up. I said, "This is what I want."
The funny thing was when I got there, Gilbert, one of the owners, the billionaire guy, his brother was there. He's looking at my machine … He sees this single needle machine show up, and they thought I was going to buy a double needle, a single needle, an overlock, and all this other shit. They were kind of hesitant when I got there, but when I finished the seats, even Gilbert came out. He goes, "I'm going to be totally honest with you. I thought you were fuckin' crazy because you showed up with a machine that was $1,800. We expected you to spend 10 grand. You spent $1,800. These look fuckin' great." I said, "It's not just the machine. Trust me. It's the operator."
Did they have the design and the color palette picked out ahead of time?
They had all the leather and suede picked out, but Henrik doesn't do a heavy detail interior sketch like he does for the exterior. He'll go up to the seat and kind of have a rough idea, and he uses tape. He starts taping lines and doing this, that, and the other. Then we talk about it. Next thing you know, I start doing what he wants, and he loves it. He was thrilled. Everybody was happy.
How familiar is Fisker with the technical aspects of automotive upholstery?
He's very knowledgeable because, like I said, he ran a car company. He built a car. He's very knowledgeable on how things go together, but I'm much more knowledgeable when it comes to, "Let's sew up the seat." You know what I mean? He knows what he wants. We get together, and it's a compromise, and we build it.
Given that the VLF Force 1 is based off the Dodge Viper, what interior modifications were made to modify it for a new audience?
It was a Dodge Viper interior … They changed the center console, cut it all out, glassed in different shapes. The tops of the doors were cut off and changed and glassed on. The quarter panels in the back, the sail panels, the headliner. On the dash, they changed the vent holes. They changed the entire vent design, so they had to be glassed and "Bondo-ed." … Then, the console was quite different. It doesn't look like much. He put some stitch designs. Samsung had something to do with sponsoring their booth with all these TVs, so Samsung wanted to make sure that their phone fit in the center console.
What other parts of the interior did you upholster?
The seats, dash, console, door panels and headliner.
I wasn't even supposed to do the headliner because they thought the old headliner would fit, but they extended their roofline back with that quarter window, and the headliner dropped down right in the middle of the quarter window. I said, "You're kidding me. You really thought this was going to fit?" I had to strip the headliner. I pie-cut it and I changed the cardboard design. I laid it up with some pieces of chipboard and glued and layered it like you were laminating plywood to get a curve shape to it. Next thing you know, I had a headliner made … We covered it with Alcantara and it looked beautiful.
Even one of the top guys there who ran the headliner developing division for Gilbert Villarreal said, "How did you make this?  We couldn't get our guys to make this in the factory." I said, "Come on, really, really." I know some special quick ways of making fiberglass panels like when you're in a time crunch. I said, "It's a time crunch. We're going to have to make this panel. Let's just get some chip board, tape it together, pie cut it, curve it." You can make chipboard in the shape of a basketball if you pie cut it enough. Then, glass up on the back side, put some foam over it, put a French seam and leather, and it looks like you just paid someone in Detroit $10,000 to make a mold and make a panel.
That's what they like. I was more or less a problem solver, too, towards the end when they were running out of time.
You previously mentioned that although you upholstered the VLF Force 1's interior, you didn't assemble it. Why is that?
Right, because the car was still getting painted … I got food poisoning when I was there. I said, "I'm only supposed to be here four days. It's been 12 days" … I said, "I want to go home." I said, "Look. I know it's all going to go in. I fit it. It's all going to go in." Sure enough. I'm at home. I'm finally feeling better. I'm calling a couple of the body guys. "How's everything going for you?" "Oh, the headliner went right in bitchin. Everything went in bitchin."
Luckily, it all went together bitchin. The only problem they had was the rear glass. It wasn't my fault. It was the weather stripping … The original weather stripping had an extrusion that was made for a slight curve, and it had a bend at a 90 degree angle, so they had to get two pieces of rubber off of a donor car, cut it, splice it.
Was there any part of the interior that gave you a lot of trouble?
What's weird is when I was flying out to Detroit, in my mind, it was like, well, whatever they throw at me, just take care of business. It was just very calm and relaxed. There was never anything hard. It was interpreting what the designer wanted and getting him to express exactly what he wanted so that I could give it to him.
Throughout your career you worked on a lot of unique projects, including a number of concept vehicles. Of all the jobs you've done, which is your favorite?
This job I just did would have to be my favorite because the crew I worked with, which is Henrik Fisker, Gilbert Villarreal and Bob Lutz, those three guys who own VLF Automotive in Auburn Hills, Detroit. It's a class act organization.
These guys I worked with, they gave everybody the utmost respect. … I come walking in to this plant. Their project manager Ray Hill shakes my hand. He says, "Come on in. Here you go. Your machine's here. Here's everything. Here's the leather. If you need anything, just call this number or call one of these guys, and they'll take care of it for you. We'll see you later."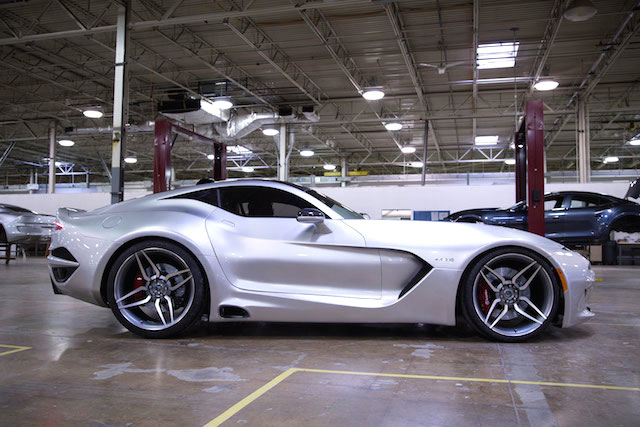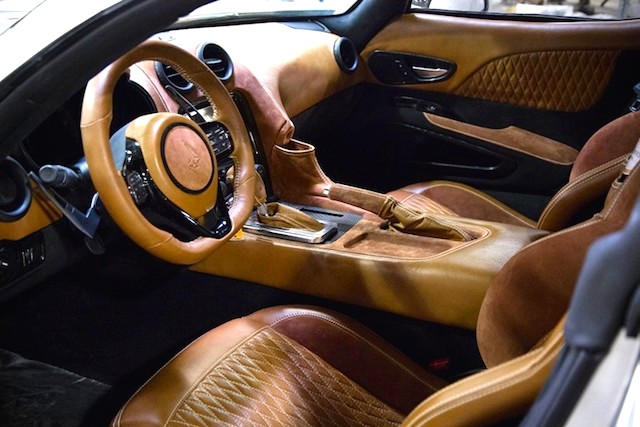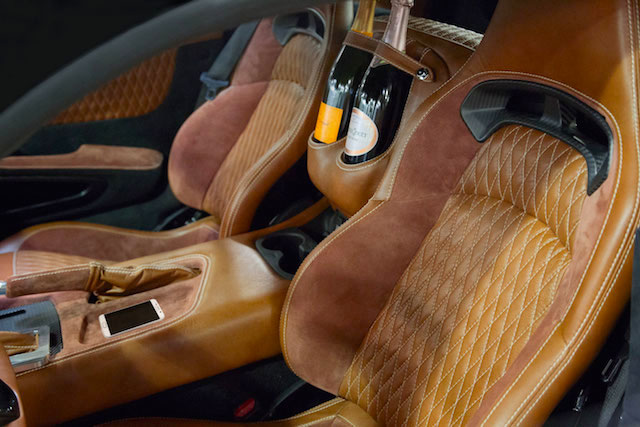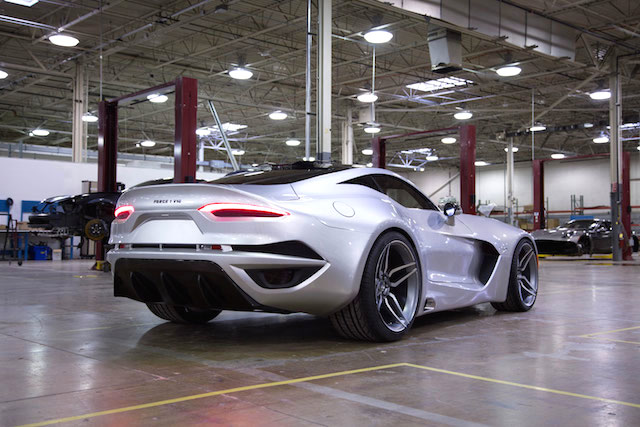 To learn more about the VLF Force 1, visit VLFAutomotive.com.