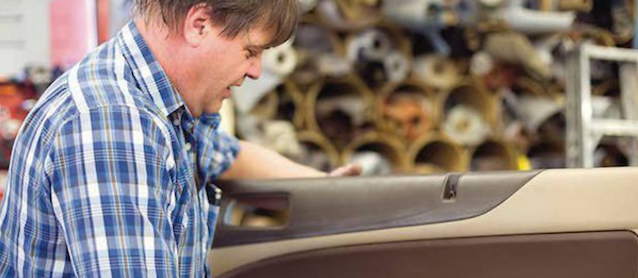 David Gludt is loved throughout the city of Troy, Idaho. And it's not just because his upholstery shop is a local staple. He's also a neighborhood school bus driver, who's been shuttling kids to class every day for three decades.
"Bus Driver Dave," as he's known to locals, is a self-described "car freak," second-generation trimmer and owner of Dido Upholstery, which does all types of upholstery but specializes in vehicles.
Each morning Dave starts his day by loading local children onto his bus and driving them to school.
"It's my 30th year of doing that," he said in a recent interview with Moscow-Pullman Daily News. "I like the kids. There's days you want to strangle them and other days they're just fun to be around."
After the children safely reach their destination, Dave heads to his upholstery shop and gets to work.
"We've been in business 58 years," he said of the upholstery shop his father opened in 1959. "I took it over from him 20, 21 years ago, when he retired. We don't even advertise – we've been here so long."
Interestingly, his father was also a local school bus driver.
As for the types of projects Dave works on, he told the Daily News that he does a bit of everything, but is mostly kept busy repairing car interiors for dealerships, as well as restoring classic cars and building street rods for enthusiasts.
That's fine by Dave, as cars are his passion. In fact, he owns 12 vehicles of his own, and says his family is no different. His brother owns 18 cars and his father has about 25.
Car collecting aside, Dave says he doesn't make a fortune doing the type of work he does, but he's happy nonetheless.
"Money isn't everything," he said. "I like to think we're good people, I run an honest business and I like our community."
To read more about other auto upholstery shops, check out our "Shop Profiles" section.