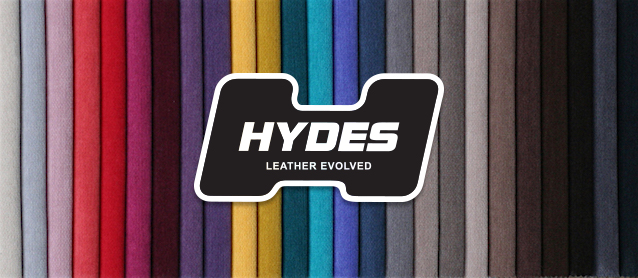 Hydes Leather is renowned for its premium leather and long list of custom services, including skiving, laser etching and perforation. But did you know they're also North America's largest distributor of Alcantara?
That's right! Hydes Leather carries 118 colors of Alcantara — more than any other distributor in the United States, Canada or Mexico. What's more, they stock four types used for various applications:
Alcantara Cover — features a fabric backing that adds reinforcement to the material. The added fabric keeps the material from stretching and is ideal for seating surfaces, flat panels and loose items that require sewing, such as shift and brake boots.
Alcantara Panel — consists of a single layer of material with stretch oriented along the width and bias. The stretch makes this fabric perfect for use on headliners and wrapping compound curves. Its thin nature also allows for easy wrapping of interior trim without clearance issues upon reassembly.
Alcantara Aviation — suited for general commercial applications, such as furniture, wall paneling and general accents. Like Alcantara Cover, it has added reinforcement that keeps it from stretching. It's chemically treated for use in marine and aviation environments. It's also treated with antimicrobial wash and is more resistant to discoloration in saltwater and marine environments.
Alcantara Perforation — features a fabric backing to prevent visibility through the holes while allowing airflow. The added fabric also keeps the fabric from stretching. Like Alcantara Cover, it's ideal for seating surfaces, flat panels and loose items that require sewing.
Without a doubt, Hydes Leather has all your Alcantara needs covered!
For more information, call Hydes Leather at (604) 446-0379 or visit HydesLeather.com. You can also follow them on Facebook, Twitter and Instagram.