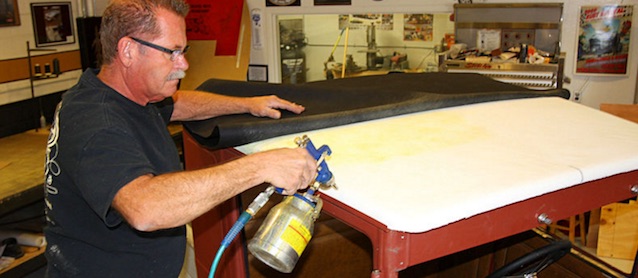 Hot Rod magazine recently published a fantastic pictorial showing how Glenn Kramer of Hot Rod Interiors by Glenn in Phoenix, Arizona, installs a custom top on a 1929 Ford Model A. It's a must see for every auto upholstery pro!
Traditionally, the Model A's wood top bows are covered with a long grain, leather-like material. But this Model A is not traditional. In fact, it features a Roadster Ute cab, with a solid steel roof that's stretched six inches to provide greater head clearance.
Nevertheless, the vehicle's owner, Brian Brennan, wanted a classic look — so Glenn had to improvise, using closed cell foam and Stayfast fabric by The Haartz Corporation. The magazine explains:
To create the padded look Brian was after, Kramer first covered the cab's roof with a layer of 1/4-inch closed cell foam, followed by a form-fitting cover of Haartz Stayfast material. Commonly used for OEM convertible and landau tops, Stayfast has three layers: an acrylic square-weave facing, rubber inner layer, and cotton backing. The same material was used to cover the custom aluminum sunvisor.
Glenn also used Stayfast to fabricate a custom tonneau cover for the bed, though that's not included in the pictorial.
The Pictorial: To see step-by-step photos of the entire project, check out "Topping Off a Model A with a Padded Roof."