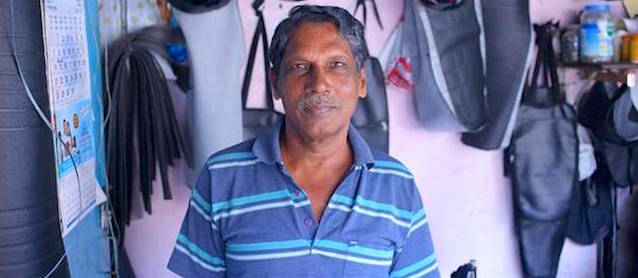 Indian trimmer A Balan was recently asked to write an essay for his local newspaper The Hindu, telling readers about his career in the craft of auto upholstery. His first-person account provides an interesting glimpse into the life of a trimmer on the other side of the globe.
A Balan has been an auto trimmer for more than 50 years, starting an apprenticeship in 1965 before opening his own shop in Thiruvananthapuram five years later. His shop is one of three in a city of nearly 1 million residents.
A Balan repaired all types of automotive upholstery and even furniture, before transitioning to focus solely on scooters and motorcycles. In a city where two-wheel vehicles are the primary mode of transportation, the decision made good business sense.
A Balan explains:
During the 80s business from two-wheelers surpassed that of cars. Car work, although it required more effort and time, didn't give me much profits. Reupholstering of bikes is an easier job with a bigger profit margin. So I completely quit doing cars by the late 80s and turned the shop into a two-wheeler upholstery shop.
Today I only do work for two-wheelers. Replacing damaged seats, rexin seat covers, sewing torn covers and making tank bags for bikes are some of the things that we do here.
A Balan usually upholsters one bike seat per day, though the number can grow tenfold during monsoon season, when drivers want to avoid water seeping through tears into their seat foam.
Although he doesn't reveal how much he charges per seat, A Balan says a custom-made tank bag takes 1 hour to complete and costs Rs200. That's only $3.12 — but isn't bad considering the average monthly salary in the city is just $446.78.
A Balan is a proud business owner, whose shop has provided for him, his wife and three children.
To read the full profile, visit "I Am…A Balan." Also check out The Hog Ring's "Shop Profile" section.