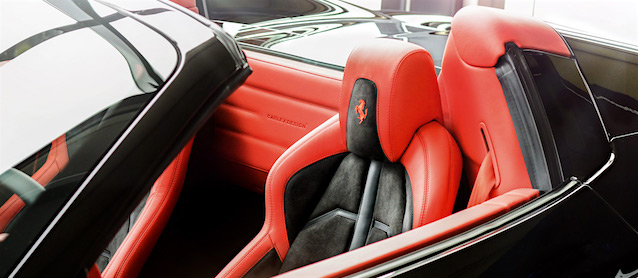 Need some inspiration to get you through the rest of the work week? Check out Polish auto upholstery shop Carlex Design's latest project — a custom Ferrari 458 Spider.
The Ferrari 458's stock interior is already gorgeous. But Carlex Design took it to an entirely new level with a ton of interior upgrades.
The team swapped out the vehicle's black interior for a sportier two-tone red and black color scheme, and wrapped everything in a combination of leather and Alcantara. The colors create bold contrast, while the fabrics add much-needed texture to the cabin. Traditional 458 pleats on the seat inserts and matching stitching on the door panels provide depth and extra flair.
Nearly every element of the interior is hand-wrapped, including the dashboard and steering wheel, which looks incredibly sexy. But don't just take our word for it, see for yourself:
Hopefully the video inspires you to try something fun at your shop today! If you do, show us photos on Instagram or Facebook.
To see high-resolution photos of the Ferrari 458 Spider, visit CarlexDesign.com.