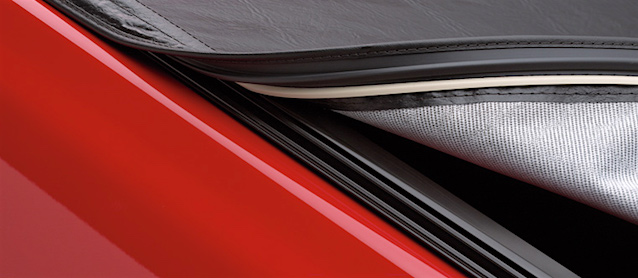 The Haartz Corporation is known the world over for manufacturing the highest-quality convertible topping. But did you know they also manufacture premium tonneau fabric?
In fact, Haartz has been manufacturing tonneau cover materials for more than 45 years. Its products are used by major automakers and aftermarket tonneau system suppliers.
Auto upholstery shops that make and install tonneau covers should familiarize themselves with Haartz's tonneau fabrics the same way they do with its convertible topping. Doing so will help them differentiate between quality products and subpar knockoffs.
Haartz's two primary tonneau products are Cover All™ and DAN.
Cover All™ features an embossed PVC fabric laminate face that's available in several colors and textures. It's backing consists of 100% woven polyester.
DAN is a more premium fabric that features a black woven acrylic face. It's backing consists of a PVC layer, providing for ultimate durability.
Both Cover All™ and DAN are waterproof and resistant to UV rays, tears, cracks and shrinkage. Tests show that many low-cost competitors can't match Haartz in any of these categories.
Haartz has maintained its position as the leading supplier of tonneau fabrics by constantly innovating. In fact, it's currently researching ways to manufacture tonneau materials with non-standard surface textures and lusters, as well as new cloth facings.
Like its line of convertible topping, Haartz only sells directly to major tonneau system manufacturers and distributors. However, trimmers can still purchase small amounts to create their own tonneau covers through select distributors.
To learn more about Haartz, including its quality tonneau fabrics, visit Haartz.com.