Most auto upholstery shops require employees to wear uniforms, which usually consist of a blue or gray shirt, matching pants and black shoes. It's simple, practical and professional. But not very stylish.
Until the early 1900s, trimmers dressed a lot classier — wearing button-down dress shirts, ties, vests and even top hats. Case in point, check out this old staff photo from Wright Brothers coach building company.
Wright Brothers operated in New South Wales, Australia, from 1883 to 1924. They built, painted and upholstered horse-drawn buggies, sulkies and wagons. At its height, the company employed 30 people, had multiple shops and was regarded as the premier coach builders of New South Wales.
After 40 years in business, Wright Brothers closed. Like most coach building companies, it was the introduction of motor vehicles that did them in.
Sometime before then, however, the builders, painters and trimmers at Wright Brothers' headquarters in Goulburn gathered for a staff photo, which the Goulburn Post recently dug up for a city calendar.
The photo highlights an important moment in history for both the city of Goulburn and our craft. It also provides insight into what our predecessors wore to work.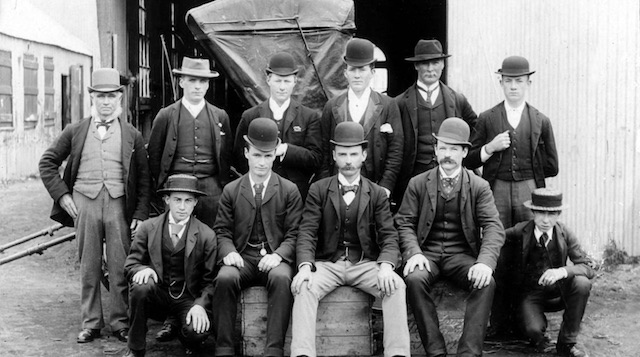 Of course, it wasn't just Australian trimmers who dressed sharp in the garage. Brits did too. Check out this photo of trimmers hard at work in the upholstery department of British automaker Morris Motors Limited.
For more old schools photos and stories from our craft, check out The Hog Ring's "Industry History" section.