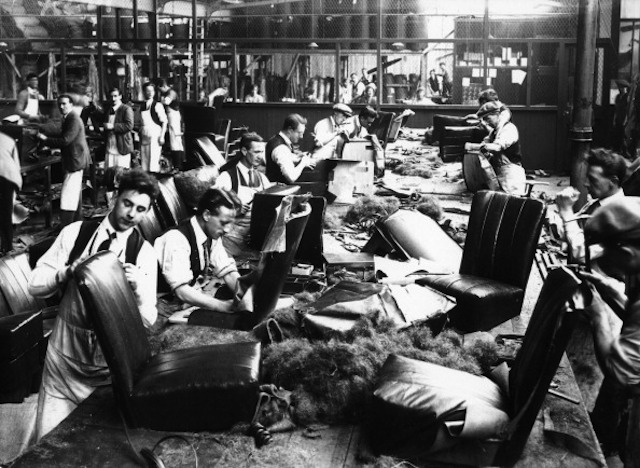 This amazing photograph captures what it was like to work in the upholstery department of British automaker Morris Motors Limited in the 1920s. It's one of the few pictures of British trimmers from the time period that's still in existence today.
Morris Motors was formed in 1919 to take over the assets of WRM Motors Ltd., which was founded seven years earlier by bicycle manufacturer William Morris. Unlike other automakers at the time, Morris Motors didn't start off manufacturing it's own parts, but sourced and assembled them. This allowed the company to launch quickly and with little capital.
By the mid-1920s, Morris Motors had developed a solid reputation for high-quality cars and overtook Ford Motor Company as the leading automaker in the United Kingdom. As Morris Motors grew stronger, it began buying subsidiaries to feed its growing need for parts and meet customer demand.
In 1938, Morris Motors joined the war effort by manufacturing Supermarine Spitfire jet fighters for the British government to use in World War II. In an attempt to halt Morris Motor's production, Nazi Germany bombed the automaker's bodies factory during the 1940s "Birmingham Blitz." However, this only temporarily paused production and the company continued to manufacture high-quality cars and planes.
By 1952, however, the marquee was bought up in an industry merger that eventually formed the British Motor Corporation (BMC). The Morris name was still used on select models, but ceased production in 1984. Today, the Morris trademark is owned by China-based automaker SAIC.