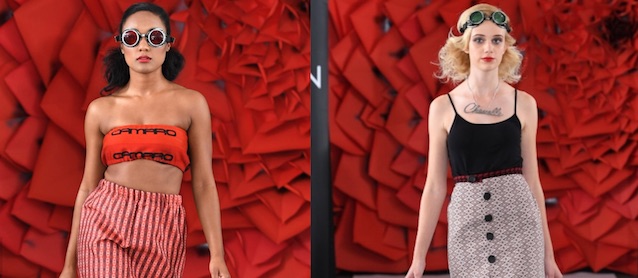 We've seen a lot of strange things at car shows, but never a catwalk full of runway models.
But if you attended last week's "Wheels in Historic Abingdon" car show in southwest Virginia, that's exactly what you would have seen. That's because Cruisin' Classics Car Club, which organized the event, invited fashion designer Kari Bare to showcase her newest clothing line — which, of course, was inspired by auto upholstery.
Bare's fashion line, "Buckle and Shift," is made from leftover and salvaged hot rod fabric and accessories, including emblems and seat belt buckles.
"Some of the fabric is reused, so I'm taking something totally different and turning it into something else which is a really popular concept right now," the 24-year-old designer told SWVA Today.
"One of my dresses was designed to look like a fender of a 1953 Chevy," she said.
The outfit's fabric was borrowed from a 1969 Volkswagen, 1973 Camaro and 1971 Mercury Capri. It's straps and belt were made from a 1957 Chevy.
Unlike other fashion designers who borrow from our industry, but don't have a background in cars, Bare grew up in a garage, watching her parents restore vintage cars.
"I didn't think other people would enjoy my clothing line as much as I do, but they loved it. I've gotten amazing feedback. It blew me away," she said.
What's more, proceeds from the car show / fashion show were donated to St. Jude Children's Research Hospital and a program that provides weekend meals to children in need.
Now that's high fashion we can get behind!
To see more of Kari Bare's car-inspired clothing, visit KariBareCouture.com.