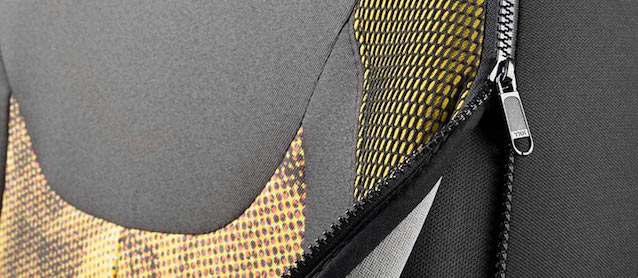 If Adient has its way, auto upholstery shops will soon be out of work — or at least seat cover work.
The Detroit-based seating manufacturer has developed a new seat cover that supposedly fits like an OEM product, but is simple enough for any car owner to remove and install. No tools, hog rings or clips required.
The cover, which zips on and off, is geared toward car owners who use their vehicles for Uber or other ride-share services, and are concerned about cleanliness.
"With more people joining ride sharing organizations for the reliability, convenience and cost, keeping vehicles clean enhances the experience. We have designed the removable seat covers to do just that," said Nick Petouhoff, executive director of engineering for Adient.
The new seat cover features an integrated zipper for easy removal and installation, and can be washed in any household washing machine. Its foam is wrapped in a protective lining that prevents degradation, so car owners never have to worry about replacing, restoring or cleaning cushions, the company says.
What's more, the seat cover can be coated in FreshPer4mance, which makes fabrics liquid-repellent, stain-resistant and antimicrobial. Adient can also print any design or pattern on the cover.
Adient, which supplies seats and upholstery to nearly every major automaker, says the new covers provide a less expensive alternative to "upgrading or repairing the interior of a vehicle" — a direct swipe at auto upholstery shops.
Of course, cheap, removable seat covers have been around for decades. But they often look cheap, fit horribly and ruin the aesthetics of a car's interior.
Adient says its new seat covers solve that problem because they're made with quality materials and fit like a glove. If true and automakers bite, our shops may soon see a significant drop in seat cover work.