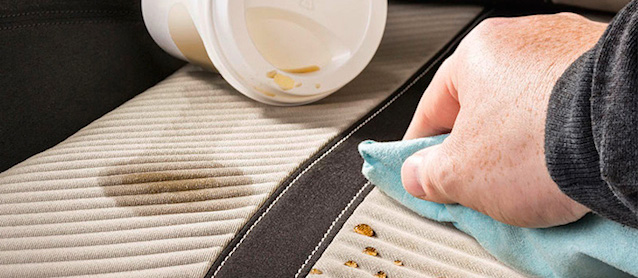 Sick of stanky car seats? Johnson Controls, one of the world's largest suppliers of vehicle interiors, has developed a coating it applies to auto upholstery that renders it anti-odor, anti-stain, anti-microbial, anti-static and water resistant. No, it's not shellac.
The company calls it "FreshPer4mance." And while other fabric suppliers offer coatings with similar characteristics, Johnson Controls says theirs is "best in class" because it combines all five benefits in one single coating. Their product doesn't just make it easier to clean car seats, it prevents them from getting dirty in the first place.
Fabrics coated with FreshPer4mance are easier to keep clean, hygienic and odor free — even in heavily used commercial vehicles.
Because FreshPer4mance works so well with all our materials, automakers and designers can let their imaginations run free and utilize any fabric color – especially lighter colors — to bring to market more distinctive vehicles with greater consumer appeal.
Whatever the fabric construction – flat, 3D, woven – we can apply FreshPer4mance equally effectively.  And, we coat the entire fabric — not just one side — for greater protection and better long-term performance. [more]
Here's a video demonstration of how it works:
Now if Johnson Controls could only invent flatulence-filtering foam rubber…