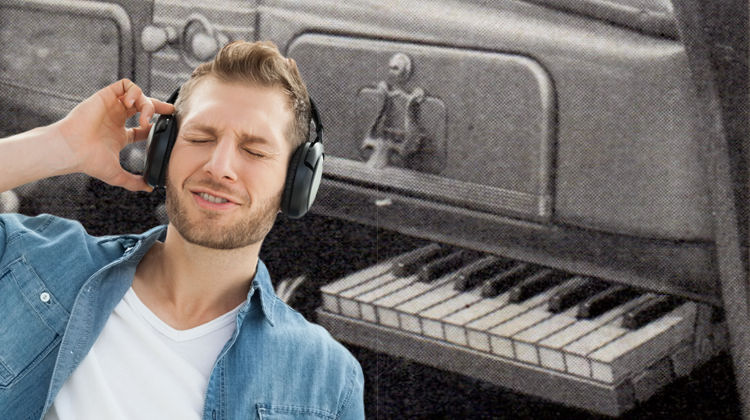 Just because drivers in the 1940s weren't tearing apart their car interiors to install 15 speakers in every panel, doesn't mean they weren't obsessed with their sound systems. In fact, some made pretty wild modifications.
Case in point: Leo Feuchter of Ironton, Ohio, rigged his dashboard with a calliope, which is an old time keyboard that plays notes by pushing air  — or, in this case, exhaust — through large whistles.
A short article titled "Dashboard Keyboard Operates Car-Exhaust Calliope" in a 1940 issue of Popular Science magazine explains:
Under the hood of the automobile owned by Leo Feuchter, of Ironton, Ohio, is a homemade calliope which is powered by the exhaust of the engine and played by means of an organ-type keyboard at the right side of the dashboard. Depending upon the speed at which the motor is running, the sound of the calliope can be heard from six to eight blocks away. To start the music, the operator presses a pedal, diverting the exhaust gases into the instrument. The range of the calliope is two octaves. Feuchter, a sixty-five-year-old automobile mechanic, designed and constructed the unique installation, which has attracted wide attention in parades and at conventions.
If Slamology was around in the 1940s, Leo would've definitely taken first place!
Here's the original article: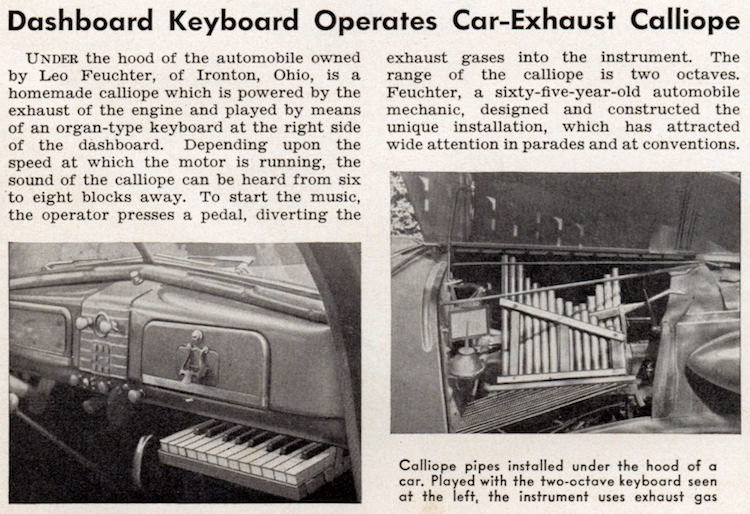 Isn't it amazing to see how far in-cabin technology has advanced?
[Source: Modern Mechanix]