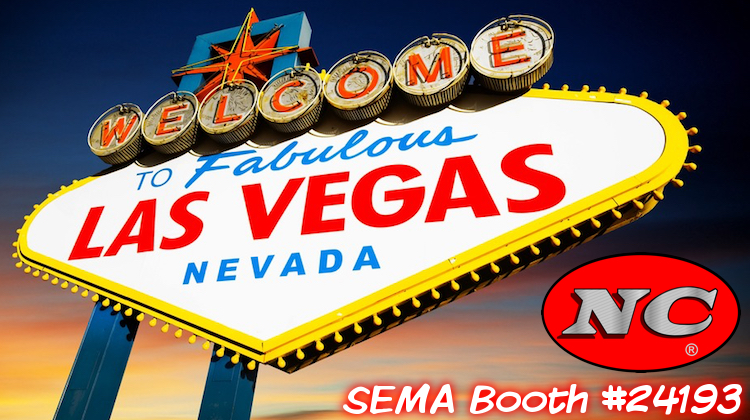 The 2017 SEMA Show is here! Make sure you swing by NC Carpet Binding & Equipment's booth to see the auto upholstery industry's largest-ever display!
CEO Mal Maher and his team of sewing machine experts will be in the Central Hall of the Las Vegas Convention Center (Booth #24193) showcasing the craft's best industrial sewing machines and answering your questions.
Meet the team, try their awesome machines, network with some of the industry's top trimmers and take advantage of huge savings, free shipping and an unbelievable extended warranty available only at SEMA!
NC Will Display a Full Range of Machines
From the NC6 to the NC11L, their most popular sewing machines will be on display for you to touch, try, and buy. That includes double-needles, long-arms and their USA-made auto mat carpet binder & serger.
NC's booth will feature a full inventory of sewing machines, industrial cutting tools, binding tapes, serging yarns and more. They're shipping all machines for FREE.
Want to save even more? Roll your new NC machine right off the showroom floor on Friday, as they'll be mounted on industrial locking caster wheels.
Got a question? Ask it. Want to see a machine in action? Try it. It's that simple!
Top Trimmers Giving Product Demonstrations
To highlight our craft, NC has invited seven of the country's top trimmers to display their skills to the show's 70,000 attendees. The trimmers include:
Relicate Leather will be the show's exclusive leather vendor, providing the talented craftsmen with hides to run through NC sewing machines. Some of the trimmers' best work will also be on display. You don't want to miss it!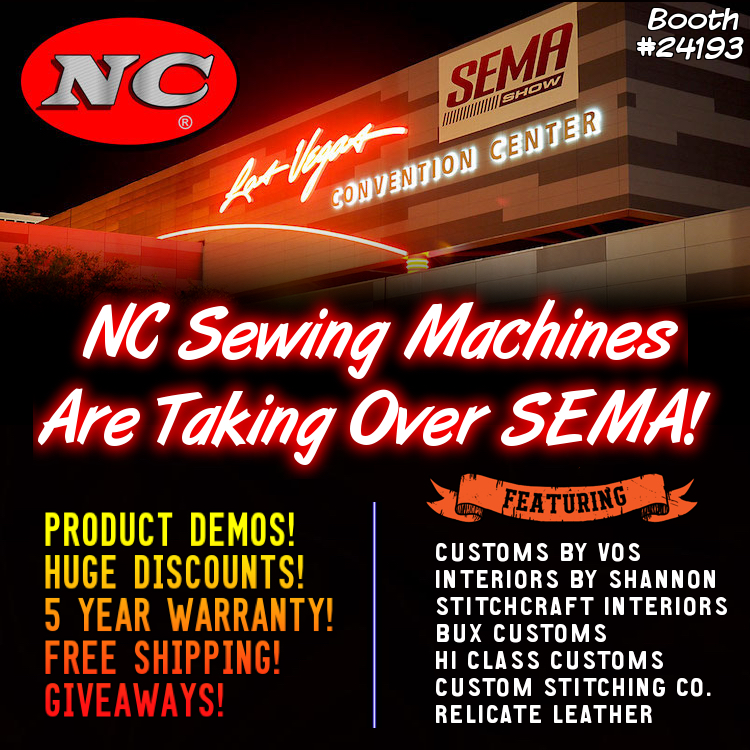 Show Discounts and Extended Warranty
What's a SEMA booth without awesome SEMA deals — right?
NC is offering huge discounts and free shipping on all its popular sewing machines. Plus, they'll throw in an unprecedented 5-year limited warranty! (By far, the longest in our industry!)
Save even more by buying your new machine at SEMA and wheeling it right out of the convention center.
Place your order before or at SEMA to take advantage of these great savings. Once SEMA is over, so are the deals.
SEMA Giveaway!
Auto upholsterers who stop by NC's booth can drop their business cards in a jar for a chance to win a cordless leather & carpet cutter.
NC will draw one business card from the jar on the last day of the show – Friday, November 3. Whoever's card is drawn takes home the prize.
To increase your chances of winning, stop by NC's booth during the drawing and you'll be allowed to drop another business card in the jar!!
Special Guest Celebrity
TV celebrity Courtney Hansen will be at NC's booth, where she'll be taking pictures, signing autographs and talking shop with trimmers.
Every car enthusiast knows Courtney from her hit TV show Overhaulin', in which she starred alongside famed automotive designer Chip Foose. She also starred in a number of other popular shows, including PowerNation, Powerblock, Destination Wild and Vinsetta Garage.
Stop by Tuesday from 12- 1 pm, Thursday 10-11 am or Friday 1-2 pm to meet her!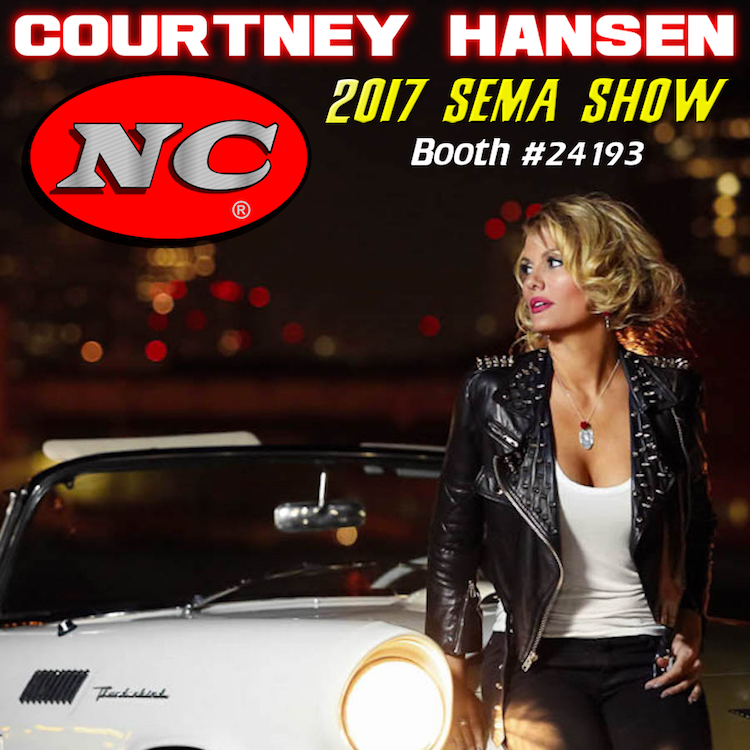 More Surprises to Come
This year's SEMA Show promises to be a game changer for the craft of auto upholstery, which has traditionally been underrepresented at the annual event.
Keep your eyes peeled to NC's booth for more surprises, fun and  excitement!
To learn more about NC Carpet Binding & Equipment and check out their high-quality sewing machines, visit N-CCarpet.com. Follow them on Instagram at @NC_Carpet_Binding.