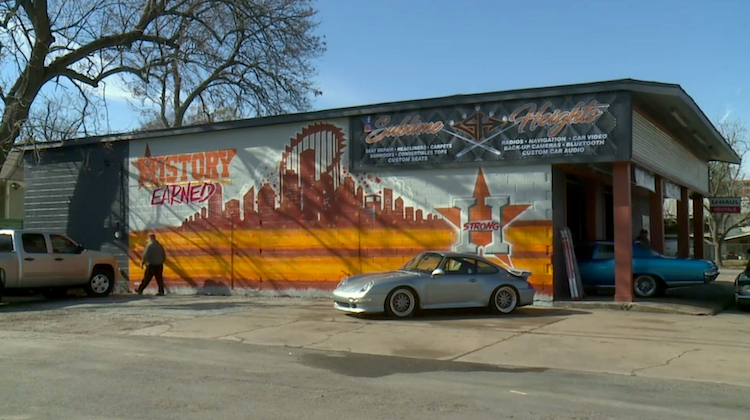 Sublime Heights, an auto upholstery shop in Houston, Texas, is uplifting its community in a really great way: By commissioning a local artist to paint a mural on its building celebrating the Houston Astros.
The Astros beat the Los Angeles Dodgers in Game 7 of the 2017 World Series, clinching the franchise's first championship victory. The November win was a major boon to the city, which had been devastated by Hurricane Harvey just weeks before.
Artist David Flores, aka Skeez181, painted the World Series trophy paired with a beautiful city skyline across the entire side of the upholstery shop. The mural includes the phrases "Earned History," which is the past tense of the Astros' 2017 season slogan, and "Houston Strong," which city residents rallied around in the wake of the deadly hurricane.
"The mural started with my friend Mario [Luna], one of the owners here, he called me and asked me if I could come and paint the mural commemorating the World Series for the Astros," Flores told local news station CW39.
"To me it means doing my part in my city to represent," he added. "I'm a native Houstonian and when we won it was just really an awesome, pinnacle moment in Houston. We went through a bunch of stuff with the hurricane, floods and all that stuff and I was actually honored to do the painting."
"I'm just here to emphasize how strong Houston is. We're a very resilient city."
Although the mural is not yet complete, residents have been flocking to Sublime Heights to pay their respects to the World Series champs. The shop's owners have welcomed the response, announcing the mural on Facebook and inviting everyone to come show their support and pride for the city.
Isn't it amazing the impact one auto upholstery shop and one artist could have on an entire city?