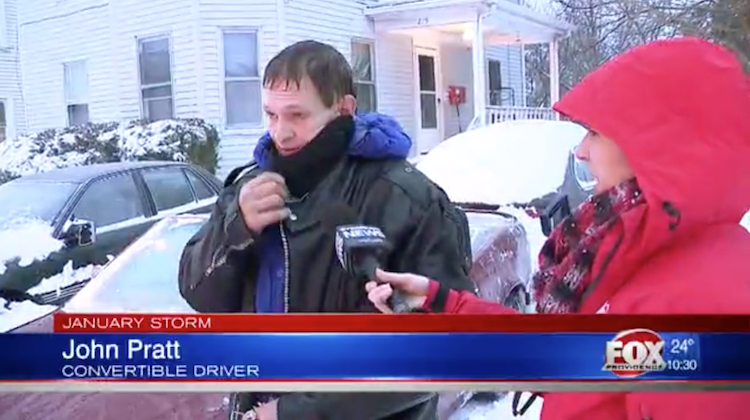 A video of a Rhode Island man driving his car with the convertible top down through last week's "Bomb Cyclone" has gone viral.
John Pratt of Cranston was captured on video driving his Mercedes-Benz SL through the massive blizzard. The video shows his car struggling to make it through at least a foot of snow.
Video of the humorous scene has since been viewed and shared millions of times.
Pratt was interviewed by local news about what happened. He explained to NBC 10 that his convertible top has been in need of repair for more than a month. Although he can raise the top manually, it won't clamp shut.
"Everybody says, 'what are you stupid? Because you can put up the thing manually,'" said Pratt. "But it's not locking…So, if I drive it's going to fly back."
He delayed having the top repaired due to the high cost. He says a local Mercedes-Benz dealership wanted $5,000 for the repair, which is more than what the car is worth.
He changed his mind the morning of the storm, and was on his way to the repair shop when the viral video was captured. Unfortunately, he blew a tire moments after the video ended and never made it there.
Despite the cold and aggravation, Pratt still finds the humor in it all.
In an interview with Fox 12, he sarcastically said driving a convertible through the snowstorm felt "very nice," and even described it as "refreshing" and "invigorating."
For what it's worth, Pratt blames the broken top on his 16-year-old son, who, we assume, is now grounded for life.