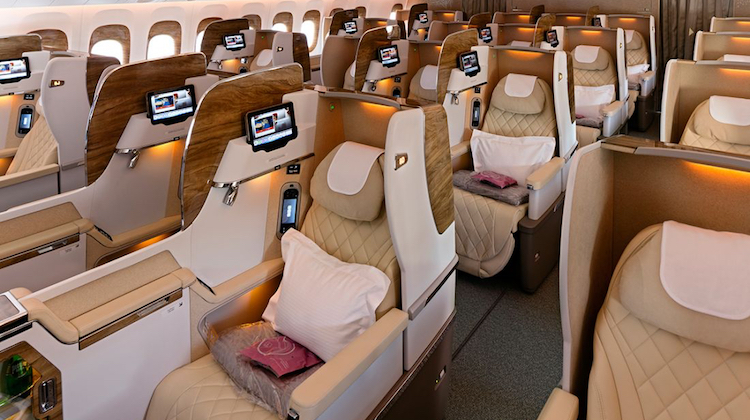 Emirates airline says it took inspiration for the design and upholstery of its new Boeing 777 business-class seats from super-luxury automakers, like Bentley Motors.
Based in Dubai, the airline prides itself on doing everything bigger, better and more luxurious than its competitors. Its leather, diamond-pleated seats are proof of that.
Luc Wiesman, a writer for men's style magazine D'Marge, recently flew Emirates from Australia to Geneva and was pleasantly surprised by the luxurious accommodations.
"Emirates say the interior of their Boeing 777 fleet has been inspired by the modern sports car which is very apparent," said Wiesman. "The leather upholstery is reminiscent of a Bentley Bentayga with its plush feel, diamond stitching and soft beige color. It's actually one of the best looking business class seats both in terms of design and comfort and makes their A380 seats seem second class in comparison."
"The material and finishing touches of the seats remain true to Emirates (the woodgrain stays) with the addition of more storage space, chrome reading lights, better access to charge your phone, headphones and anything else you're carrying onboard."
Cool? Certainly — and not just because the seats sound really comfortable. We think it's awesome that airlines are starting to take design cues from automakers.
Auto and aviation upholstery have overlapped for decades at small, independent shops across the world. Finally, it's happening on grander level.