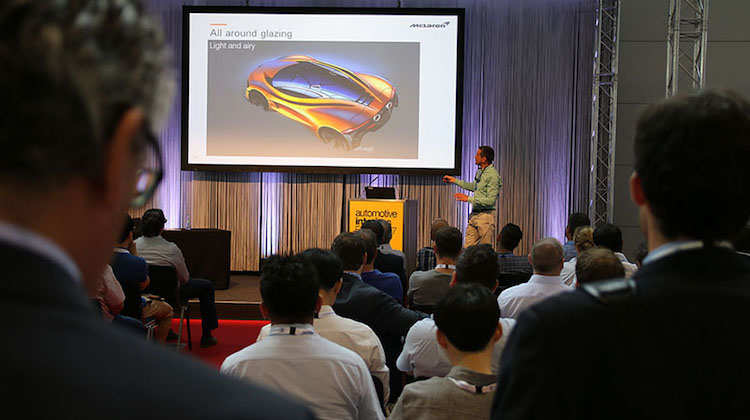 Guten tag! The Automotive Interiors Expo in Stuttgart, Germany, is only a few months away.
The event, which will take place June 5 – 7, brings together automakers, interior manufacturers, styling houses, suppliers and trimmers to learn about and discuss the latest trends in the industry. There will be more than 130 exhibitors in attendance.
The event's website explains:
Automotive Interiors Expo exhibitors represent the A-Z of car interiors, with our exhibitors' products being found in vehicles from just about every car manufacturer you can name, from Ferrari, Maserati, McLaren and Porsche through to GM, Volkswagen, Jaguar, BMW, Kia Toyota and Chery,
to name just a few! […]
You'll find a wide range of fabrics, acoustical materials, shape-forming materials and foams, fasteners and adhesive systems, lighting and more! The show is a must-visit for Tier 1 suppliers as well as for interior design teams from car manufacturers wanting to keep up with the rapidly changing world of materials, finishes and technologies that contribute to "touch and feel."
The show is of equal significance to design teams and procurement people, and is full of things to see whether you are working as an interior designer or, just as importantly, as a Tier 1 or 2 component manufacturer. This is a solutions show with a tremendous number of innovative products to see!
The three-day event will include a number of discussion panels, including such topics as "Seating Design, Ergonomics and Integrated Technology for Smart Interiors" and "New Materials and Composites – Light-weighting Technology and Shedding Interior Flab."
Like the upcoming WardsAuto Interior Conference, this expo is more about materials, design and technology than it is about craftsmanship and tools. It provides a great opportunity to keep up with industry trends and stay ahead of the design curve. However, it's not the type of event where you'll meet a lot of car builders and craftsmen. (The 2018 SEMA Show is better for that).
The Automotive Interiors Expo is free, but space is limited. For details, visit Automotive Interiors Expo 2018.