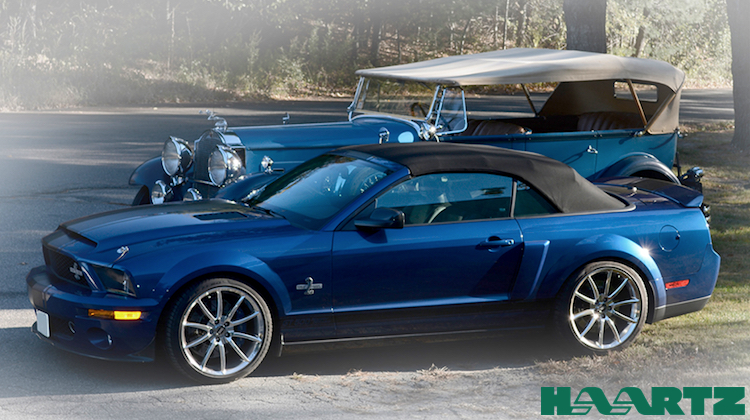 Tired of cheap, knockoff convertible tops flooding the aftermarket? So is The Haartz Corporation — and they're doing something about it.
Haartz, the auto industry's leading manufacturer of convertible softtop fabric, has launched a three-prong strategy to counter the sale of inferior, import tops that decrease our sales, disrupt our workflow and damage our reputations.
First, Haartz has launched the "Keep it Original…Keep it Haartz" ad campaign to educate top manufacturers, distributors, trimmers and car owners about the importance of buying and installing tops made from OEM-quality materials.
Second, Haartz launched a "Find Your Top" web portal to help trimmers and car owners determine the correct Haartz material that was used as original equipment on their particular vehicle.
Third, Haartz introduced Forté™, an OEM-quality material specifically designed for aftermarket applications that convertible top manufacturers and trim shops can buy to ensure they're using the very best.
Intrigued by Haartz's aggressive, head-on approach, we reached out to Gordon Goodwin, sales manager for Haartz, to ask him about the problem of inferior and imposter-brand materials, as well as what they're doing about it.
His answers were informative and insightful, and definitely something every trimmer should read:
1. What sets Haartz topping apart from other, lesser known brands?
When a trim shop or a consumer purchases a top made from our materials, they can have confidence and the peace of mind that their top was produced with the finest quality topping material in the world.
All our toppings pass rigorous OEM standards for UV resistance, flame resistance, tensile strength, dimensional stability and abrasion resistance, just to name a few.
We've been developing and producing quality topping materials for well over 100 years and didn't achieve our current position in the market by cutting corners. We stand by our products and assist our customers with any and all related technical issues.
2. What are OEM standards? And why is it important that Haartz complies with them?
OEM standards are a set of demanding requirements for properties such as those listed above, as well as durability, aesthetic design and overall performance that are forever being driven upward. These requirements have been developed over many decades of product use by our OEM customers.
As an OEM supplier, we are required to test all products to these standards and certify our materials meet these standards. These ever-increasing OEM requirements become the basis for the products we introduce to the aftermarket, ensuring that even our aftermarket products are ever advancing. With a self-certified laboratory in house, we are well suited to meet the needs of our customers on an ongoing basis.
3. There are a lot of distributers and online retailers selling convertible tops manufactured from fabric other than Haartz. What should trimmers who buy and install these tops watch out for?
Many of the low cost, imported tops that we have tested include banned substances such as heavy metals, and some also fail for properties such as heat resistance, dimensional stability and UV resistance. Oftentimes, the result is a poor fitting top that doesn't maintain its shape and strength once exposed to the elements.
4. Tell us about your campaign: "Keep it Original…Keep it Haartz." How big of a concern are convertible tops made from knockoff materials?
The "Keep it Original…Keep it Haartz" campaign is an effort to raise awareness about products we consider to be poor imitations of the high-quality convertible topping that the consumer deserves.
We are seeing increased offerings of low cost, imported products that simply do not meet basic convertible topping performance standards. Our concern is that in the long run, these types of products have the potential to give open air driving a "black eye," thus damaging both the OEM market and the aftermarket for convertibles.
5. What can trimmers do to help with the campaign?
We encourage trimmers and consumers alike to ask their replacement top supplier to certify in writing that their top was produced with genuine Haartz convertible topping materials.
Producers of quality replacement tops should be more than happy to oblige these requests. It's also important for trimmers to explain to their customers that they cannot stand behind a top that they did not purchase from a reputable manufacturer and therefore cannot be sure it was produced from our materials.
6. A lot of times, knockoffs are marketed directly to car owners — not trim shops, which know better. What is Haartz doing to combat knockoffs at this level? 
We are stepping up activities to increase awareness of this situation via online ads promoting our products and warning consumers of the inherent danger in purchasing "off-brand" tops.
7. Knockoffs aren't always easy to identify. How can a trimmer tell the difference between Haartz topping and a knockoff?
Most of the better replacement top makers are proud to sew some sort of identification tag into their tops. These tags usually have the manufacturer's name or at least a part number that can be traced back to the top maker's recipe of materials used.
No tag or any form of identification should be a red flag to trimmers or consumers. Of course, the best practice is to simply contact the top maker to ensure the top was produced with our materials.
8. What are the risks – legal or otherwise – of knowingly selling or installing convertible tops that falsely claim to be manufactured using Haartz or OEM material?
It's important to note that we do not produce finished tops, just the topping materials in roll good fashion. We have tried to be very diligent in policing online sellers who market their products as "Haartz Tops." We have issued cease and desist orders against sellers we find are misrepresenting their products as being produced with our topping materials when in fact, they are low-cost imported products, produced from unknown, unproven materials.
The obvious risk to trim shops is the potential for returns and unhappy customers when their top does not live up to expectations.
9. Haartz recently launched a web portal to help trimmers identify which manufacturers produce tops using Haartz Fabric. Can you tell us a little about it?
Yes, on our website we have a "Find your Top" feature that will let the consumer enter the make, model and year of their vehicle to determine the original topping material used. This feature also lists the top producers we sell to.
However, we feel it's still prudent to ask the top maker to certify the use of our materials in the production of their specific top, since even some of the major U.S. top producers have recently been tempted to offer low cost imported tops in order to compete at the lower end of the market.
10. Forté™ is perhaps Haartz's most aggressive stand against cheap knockoffs. With Haartz already providing topping for nearly every convertible vehicle on the market, why did the company feel so compelled to introduce an aftermarket line?
As the worldwide leader in the manufacture of automotive convertible topping, we feel it's our duty to bring the latest technical developments, many of which stem from our work at the OEM level, to the aftermarket. Forté™ is the result of such work.