Hydes Leather, North America's leading supplier for premium automotive leather, just published its Master Collection Catalog, featuring the most extensive collection of OEM, Italian and German leather on the market.
The Master Collection Catalog includes more than 1,200 colors in genuine leather and vinyl, as well as a diverse collection of aftermarket options to customize orders.
"Our clients are very impressed by the variety of options available in our Master Catalog set from OEM to custom. I feel we have the best collection to help our customers satisfy almost any need. I'm very proud of what we offer," said Aaron Laithwaite, owner of Hydes Leather.
The complete catalog provides clients with a wide range of colors, grains and textures to choose from, and makes it easy for upholstery professionals to select appropriate matches.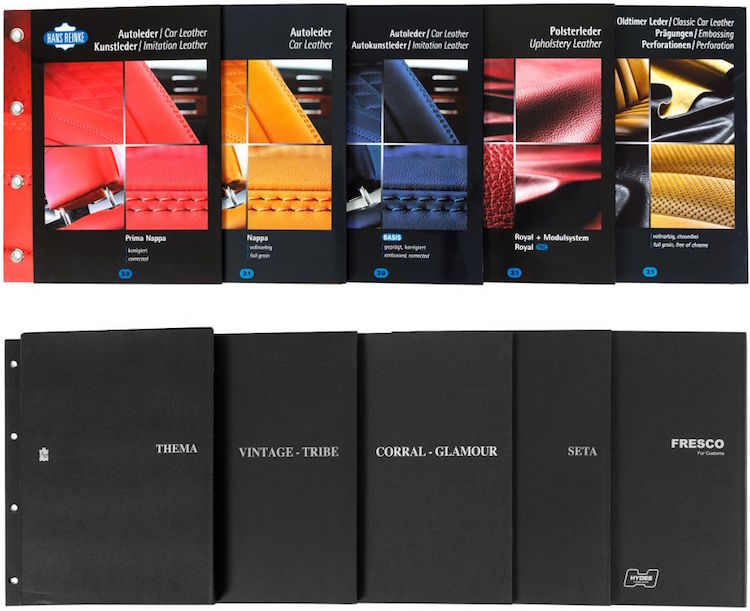 It includes the German Hans Reinke range (including Old Timer, Full Grain Nappa, Prima Nappa, Royal and Basis) and the full Italian Collection (including OE Ferrari, Maserati, as well as aftermarket leathers; Thema Nappa, Fresco for Customs, Seta Aniline, Vintage Distressed, Glamour, Corral Distressed and Tribe). Also included is Hydes' synthetic booklet, which features 320 colors of OEM and aftermarket vinyls.
With the full catalog in hand, clients can see, touch, and even smell the leather they want before it goes into their cars.
The Master Collection Catalog is FREE!
Hydes Leather requires auto upholstery shops to provide a deposit of $20 up to $220 for the full collection. But the entire amount is refunded after your orders placed with Hydes reach $2,000.
"Our catalogs are expensive to produce, but I feel that it's an essential tool for any shop that is serious about providing their clients with the absolute best options available. With this in mind, we decided to use a deposit system so that those who are serious about their business can benefit from our books without adding to their costs," said Laithwaite.
Hydes supplies original and authentic, 100% European leather, delivered from tanneries directly to upholsterers and custom car builders around the world. They specialize in top-quality European leather for luxury brands, and take pride in delivering products that offer the highest quality, longevity and durability.
To order your Master Collection Catalog, visit HydesLeather.com/catalogs and register as a preferred Hydes Leather Auto Upholsterer. You can also call (604) 446-0379 or email info@hydesleather.com to find out more.