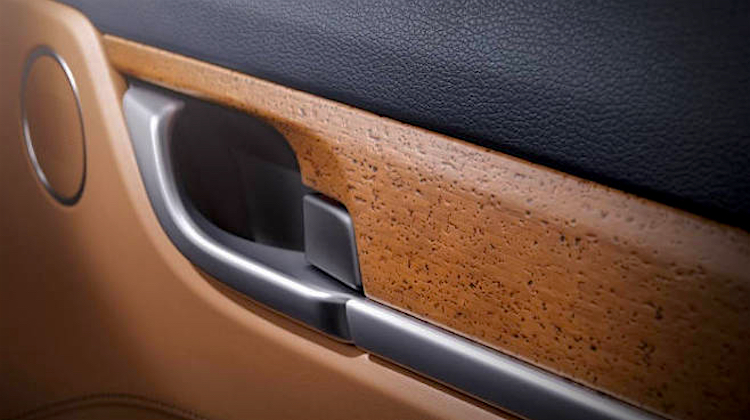 If you love the way wood trim looks inside a vehicle, but hate how heavy and expensive it is, Korean supplier Seoyon says it has the solution: cork.
Seoyon displayed its cork trim at last week's SAE World Congress Experience in Detroit, Michigan, where vehicle designers couldn't stop raving about its potential.
WardsAuto, which attended the event, explains:
It is soft and natural to the touch, available in a variety of attractive patterns and half the cost of real wood trim. Some of the patterns look like cork, others look like wood. A thin layer of non-woven fabric provides the pattern and a clear-coat top layer provides durability. […]
Cork trim parts are less expensive [than wood] because manufacturing is simpler, requiring only five steps instead of 20. They are made by stacking several real cork veneers on a plastic surface and forming it into trim parts through a simple insert-molding process. Cork also is more elastic and easier to form than wood, which increases design freedom and limits scrap rates. [read more]
Of course, there are environmental benefits too. Harvesting cork is a simple, sustainable process that doesn't require cutting down trees.
Currently, the only mass production vehicle to feature cork trim is the Hyundai Grandeur Hybrid, which is sold in South Korea. Using cork in the Grandeur resulted in a 65% cost reduction and 24% weight reduction, according to Hyundai.
With figures like that, it's only a matter of time before American automakers also start trimming their interiors in cork.