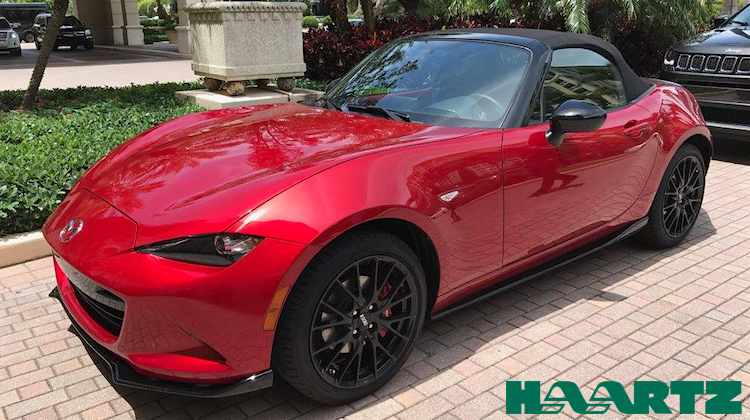 The hot sun, beach fun and wild drop tops. That's what this week's "Topless in Miami" convertible competition is all about!
The event is organized by the Southern Automotive Media Association (SAMA). Officially titled "SAMA Topless in Miami presented by Haartz," it's sponsored by The Haartz Corporation, the world's leading manufacturer of convertible topping.
The fun will take place May 31 at the Ritz-Carlton Key Biscayne.
Of course, the hottest convertibles will be on display — including the Fiat 124 Spider Abarth, Ford Mustang, Mazda MX5-Miata and more.
Many of the vehicles will feature convertible soft tops made from Haartz fabric, such as Stayfast C, Twillfast RPC and Sonnenland A5B/DS.
"There will be no shortage of convertibles at this event so we're looking forward to seeing lots of softtops and going on plenty of open-air drives," said Doug Haartz, international sales manager for Haartz.
The vehicles will be judged on a long list of criteria: styling, engagement, technology, top operation, ride and comfort. Awards are presented across a number of vehicle segments, ranging from small convertibles to exotics.
The top honor, "Topless Vehicle of the Year," goes to the vehicle deemed best all around.
For more from the Haartz team, check out this video interview from a previous competition:
To learn more about The Haartz Corporation, visit Haartz.com. Also follow them on Facebook, Twitter and Instagram.