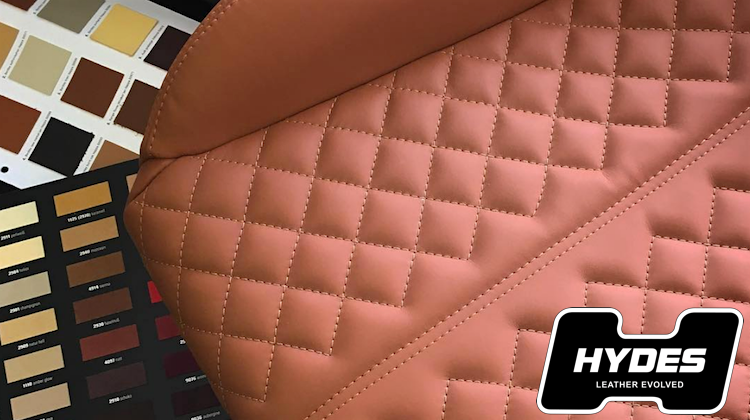 Auto trimmers should be aware of the significant differences between automotive- and furniture-grade leather before choosing a hide to upholster a client's car.
Both types of leather offer benefits and drawbacks that must be taken into account. For example, automotive leather is stiffer and designed to withstand UV rays and abrasions, but unavailable in distressed or naked finishes. Meanwhile, furniture leather is softer and available in many different looks and finishes, but is susceptible to the elements and unsightly stretching.
But don't just take our word for it — listen to Aaron Laithwaite, founder and CEO of Hydes Leather, the auto upholstery industry's premier supplier of OEM automotive-grade leather.
We recently spoke with Aaron about the differences between automotive and furniture leather, the pros and cons of each, and how his team of experts can pretty much match any color out there.
Here's what he had to say:
What is the primary difference between automotive and furniture leather?
The primary difference is in the tanning process. Furniture leather uses a lot of fat liquor to make the skin fibers elastic and soft, which creates a supple leather. In automotive leather, durability and long life is needed so less fat liquors are used to create a stronger hide. This creates a leather that is more resistant to stretching and bagging.
Is automotive leather chemically treated differently than furniture leather? 
There are differences in the surface finish. In automotive leather, there is more UV protectant to block out the sun's rays. There are also extra additives in the pigment dyes for durability and abrasion resistance and to minimize off-gassing (the windshield fog that we all wipe away).
Furniture leather needs a lot of upkeep. Is that also true of automotive leather?
Automotive-grade leather by nature has a lot of protectant in it. Therefore, I feel that adding a lot of leather protectants and lotions is unnecessary. The leather has been tanned to preserve it. It isn't alive anymore. The proper amount of ingredients have been added to make the leather last as long as possible, and it has been tested thoroughly.
Auto leather has a pigmented and urethane top coat to seal it. When lotions are applied to it, it's really just sitting on the surface and then rubbing off on clothing. Occasional moisturizers are not going to hurt, but their benefits are also debatable.
I have seen cases where excessive moisturizing has altered the moisture content inside the leather hide, which causes the leather fibers to lose their strength and the interior becomes very loose, and in some cases dashboards bubble up or shrink.
What are the possible negative consequences of using furniture leather in cars?
Furniture leather can be too soft for a car's interior, and overtime the leather can stretch and become loose without rebound. The other factor is that the colors can fade because there isn't enough UV resistance in the leather. This is especially true with waxed and oiled leathers, or aniline leathers, as they have minimal or no urethane top coat for protection.
Is there any case where using furniture leather to upholster cars is a good idea?
Sure. There are applications where an automotive leather just won't work because it's too stiff or the wrong look.
Some of our hot rod and custom car upholsterers prefer to work with furniture leather because of its elasticity. When you're doing one-off builds with some extreme angles and compound curves, you need to have some flexibility.
However, these are mostly collector cars that will rarely be driven or exposed to the sun for prolonged periods of time.
For this reason, we do sell some furniture-grade leathers.
What are the limitations of automotive leather?
Because automotive leather has a pigment finish with a urethane top coat, you cannot have distressed or naked finishes like the types of leather you find in furniture ranges. Also, because it is made to last for a long time, automotive leathers tend to feel stiffer and stronger to the touch. They are still very smooth, but not as supple in your hand. There is always a trade-off.
How can an auto trimmer tell the difference between leather that's automotive- or furniture-grade?
Upholsterers can tell mainly by the elasticity of the leather. Furniture leathers are soft and supple, and can be crushed in your hand. Automotive leathers tend to be a little stiffer and stronger.
What's more, typical automotive leathers are only pigment dyed with a solid color, while furniture leathers can have many different looks and finishes.
How common is it for leather suppliers to pass off furniture leather for automotive leather?
It has been common place in our industry for suppliers to ignore the difference between automotive- and furniture-grade leather. This is why at Hydes, we have chosen to focus on automotive-grade leather as our primary product line, so that we can offer the proper material for the proper use.
Say a customer chooses furniture leather for his car because he likes a particular color and grain, is Hydes able to match that color and grain but with automotive leather?
Yes. We do color matching all the time, but it really depends on the sample material. As I mentioned, automotive leather is usually a single-tone solid color finish.
Our color technicians are the best in the industry. They produce the most accurate color matches possible, from whatever reference material our customers provide.
Can a client order using any leather reference?
Yes, the color matching can be done from a furniture sample, or any other reference material. We often get paint samples and spray outs.
If the reference is aniline leather or another type, we will match to the tone, and make an automotive leather from that.
Is there a significant cost difference between automotive and furniture leather?
No, there's no cost difference. It's really just two different processes to manufacture the leather.
Why does Hydes Leather sell mainly automotive-grade leather? What are the benefits of you being focused on autos?
I started Hydes Leather with only one project in mind. I was helping a friend source some leather for a 1934 Ford 3-window coupe he was building. I suggested to him that I could get authentic Ferrari leather, and he jumped at the idea. Once the car was finished and it went to a few shows, my phone began to ring, and I knew there was a disconnect in the industry as most wholesalers were selling furniture leather only, and treating the auto upholstery crowd as an afterthought.
From there, I decided to focus on providing genuine auto leather to upholsterers across North America and now globally, directly from the original production tanneries in Europe.
Hydes' main focus is the auto industry, and we are here to help put the correct leather into our clients' projects. Our clients can always reach me directly if they have any questions on what is best to use.
To learn more about Hydes Leather, and view over 1,200 genuine leather colors, visit HydesLeather.com. You can also follow Hydes on Facebook and Instagram.
For any specific enquiries about custom work, or what leather will work best for your project, call Aaron at Hydes Leather at (604) 446-0379.
[Photo via E3 Customs]