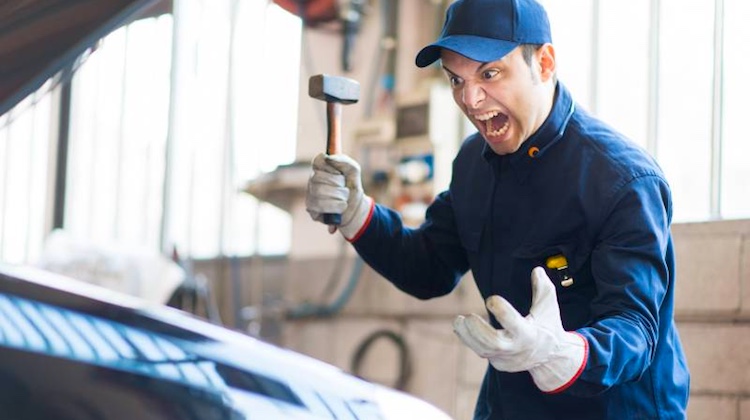 Every once in a while, a trimmer has to vent his frustrations. For me, today is one of those times.
So, without further ado, here's a list of five things customers do that piss me the hell off.
1. Miss an appointment
People, call ahead if you're going to miss your appointment. It's a simple courtesy that only takes a few moments of your time. If you give me notice that you're not going to show up, I can schedule another job in your place. Otherwise, don't expect me to accommodate your schedule the next time around.
2. Complain about sales tax
As God as my witness, this is a daily struggle at my shop. I didn't ask to be a tax collector for the government, I was forced to become one. It's the law and it's out of my hands. So yes, you do have to pay sales tax. If you have a problem with that, take it up with Uncle Sam!
3. Bring a car full of junk
If you're bringing your car into my shop for a new carpet, headliner or seat repair, then you better clean out all the junk. How do you expect me to work in a car that I can't even sit in? No, it's not ok that I have to remove piles of trash just so that I can get into the backseat, only to put it all back when I'm done.
4. Don't pick their sh*t up!
If you tell me that you must have your car done by a certain day and I accommodate that, THEN PICK UP YOUR CAR ON THAT DAY. When I bust my ass to meet your deadline and you don't bother picking it up, you're basically saying your time is more valuable than mine.
5. Assume I'll give them a ride home
Do I look like a chauffeur? When you schedule an appointment to fix your car, schedule a ride home for yourself. I can't close my business to drive you home and then close it again just to pick you up when the work is finished. Take a taxi, Uber, bus. I don't care. I'm not running a shuttle service.
What do you think?
Is there anything customers do that piss you off that you'd like to add to the list? Let me know in the comments section below ↓