Once upon a time, when vinyl tops were relatively new to the auto industry, General Motors took out a double-page ad for its new Chevrolet Caprice Custom Coupe.
"The Chevrolet 'convertible' that doesn't convert," GM proclaimed, boasting the benefits of an imitation droptop. The ad included a bikini-clad model, driving home the point that this was a summertime cruiser.
Here's the full text, as it appeared in the April 23, 1966 issue of The Saturday Evening Post.
Clever. The vinyl roof covering available for your Caprice Custom Coupe creates the impression it's a convertible. But Caprice is really a luxurious hardtop with all the advantages of Chevrolet hardtop design. Inside, Caprice allows only luxury, like foam-cushioned seats, thick carpeting and paneling to highlight doors. Padded dash and seat belts, front and rear, for added safety. Want to top the Caprice? That's easy. Just tell us whether you want the black or beige vinyl roof cover.
Yes, the ad also flaunted the Caprice's other luxury features — such as seat cushions, door panels and seat belts. Clearly, those were simpler times.
Of course, customers bought the hype and both the Caprice and vinyl top became enormous successes.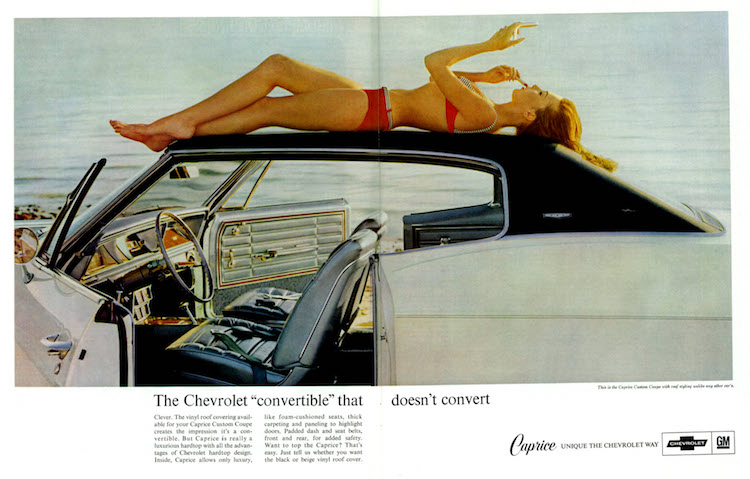 It's been 53 years since the ad was published. And while vinyl tops have long fallen out of favor with car buyers, we still think they're cool. In fact, our 1969 Dodge Charger has its original top!
Check out our "Industry History" section for more great blasts from the past!