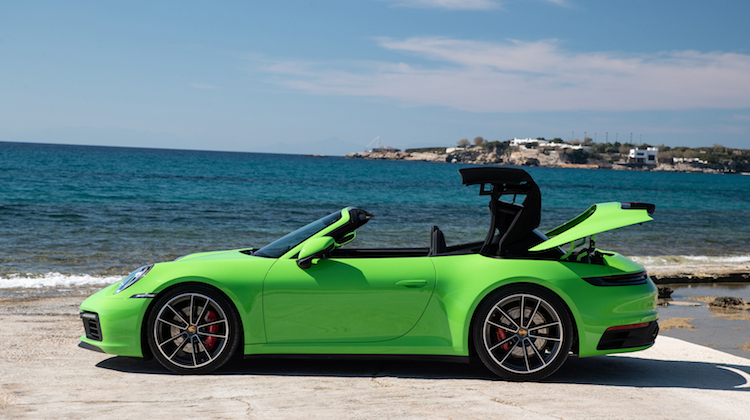 The new Porsche 911 Carrera's convertible soft top is an engineering marvel.
The top, which was teased by Porsche in a new video, is the lowest and lightest to ever sit atop a 911.
Its magnesium frame is divided into three flat surfaces and a window pane, which retract similar to a hard-top convertible. This allows for the 911 cabriolet to retain the sleek roof lines of the coupe.
"In order to transfer the iconic design of the 911 coupe to the cabriolet, a so-called flat-bow top was used," Porsche says in the video. "A bow is a kind of pole that supports the hood, but is clearly visible. To solve this, the bows of the 911 have been enlarged to form a surface. The advantage: A coupe-like shape without bow markings."
The cherry on top? The frame is wrapped in The Haartz Corporation's gorgeous Sonnenland A5.3M topping fabric. The topping features an acrylic twill weave facing, rubber inner-layer and polyester dobby backing.
"The Porsche 911 Carrera Cabriolet's convertible top is made with our Sonnenland A5.3M material and is constructed for superior performance," says Matthew Williams, director of business development at Haartz.
The 911's top weighs only 77 lbs and retracts in just 12 seconds. It can be raised or lowered up to 30 mph.
Check out this video to see it in action: