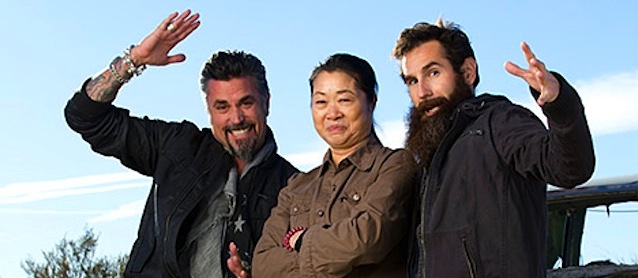 Thanks to a regular appearance on Discovery Channel's hit TV show Fast N' Loud, Yu-Lan Haiso Martin – known the world over as "Sue" – has become the most recognizable figure in auto upholstery.
Fans of the show tune in each week to revel in her witty humor and relentless bashing of costars Richard and Aaron of Gas Monkey Garage. However, it's not just her charismatic personality that keeps viewers coming back for more. Sue is, in fact, a talented trimmer who always manages to breathe new life into the "junk" interiors that customers bring her.
Of course, Sue's success cannot be simply attributed to a television show. On the contrary, she has earned her stripes the old fashioned way: hard work.
Sue founded her shop, ASM Auto Upholstery, 23 years ago after immigrating to the United States from Taiwan and teaching herself the craft. Since then, she has worked day and night – sometimes even sleeping in her garage – to build a strong reputation for quality and dependability.
Sue's hard work has certainly paid off. Today, she operates a busy nine-person auto upholstery shop in Dallas, TX; stars in a hit reality TV show about the auto restoration industry; and is revered by peers and car enthusiasts alike. As her website states, "Sue is an example of the true American dream."
We are proud to interview Sue of Fast N' Loud and ASM Auto Upholstery for the sixth installment of our "10 Questions" series.
1. How long have you been an auto upholsterer for? How and where did you learn the craft?
23 years, a friend introduced me to the industry. I learned the craft by working side by side with my first employee, Adan De La Rosa, who has since passed away.
2. How did you link up with the fellas of Gas Monkey Garage and get involved in the whole Fast N' Loud project?
Richard's shop was down the street when he came by and saw our quality work and decided to use us. That was 12 years ago and we've had a business relationship since.
3. Your catch phrase on Fast N' Loud is: "Why you always bring me junk?" Do Richard and Aaron of Gas Monkey Garage really always bring you junk?
Yes, since most of their vehicles are restorations, we get their projects at there worst.
4. Gas Monkey Garage brings you a lot of classic restorations and custom work. Is that the bulk of your business or do you mainly do general repairs?
The bulk of our business is not restorations. It's general repairs with some restorations and custom projects.
5. Often times on Fast N' Loud, the fellas of Gas Monkey Garage will bring you a vehicle that needs a total interior overhaul and give you a ridiculously short deadline for when it needs to be complete. How real are those deadlines? And if they're real, how do you manage to complete a full interior restoration that quickly?
Due to the fact that Richard's vehicles are often scheduled for sale at auctions, the deadlines are real and we manage by putting several employees on their projects and working late.
6. How do you find the time to shoot scenes for Fast N' Loud while running a fully operational auto upholstery business?
Luckily we have two sides to our shop. When discovery comes over to shoot, we're still able to work on the other side.
7. Your role on Fast N' Loud has cast ASM Auto Upholstery into the spotlight. Has the show impacted your business? And if so, how?
Since we are already a busy upholstery company before the show, with our accounts with many car dealerships, the business side hasn't changed with the show, but we now have a lot of fans from across the world.
8. There aren't many auto upholstery shops that receive as much international attention as yours does right now. Do you feel a sense of duty to the craft to represent it in any particular way?
I think since it's a reality show, you don't see what the craft is really about. We do a lot of different things that aren't on the show. It would be nice to redo only hot rods and be able to make a living at my shop, but that's not the way it is.We work all day everyday on variety of projects from furniture to marine and even airplane upholstery.
9. If there's one thing that you'd like car enthusiasts to know about our industry, what would it be?
One man's junk can be turned into another man's treasure.
10. It seems that you started off as a guest character on Fast N' Loud, but because of your funny and outgoing personality you've been highlighted a lot more. Is this a sign of you taking on a more regular or leading role in the show?
You'll just have to watch the show and see. But yes, Richard, Aaron and I have been filming more together. It's been a lot of fun.
BONUS QUESTION:  What does the future hold for Sue and ASM Auto Upholstery?
We're just gonna keep on trimming.