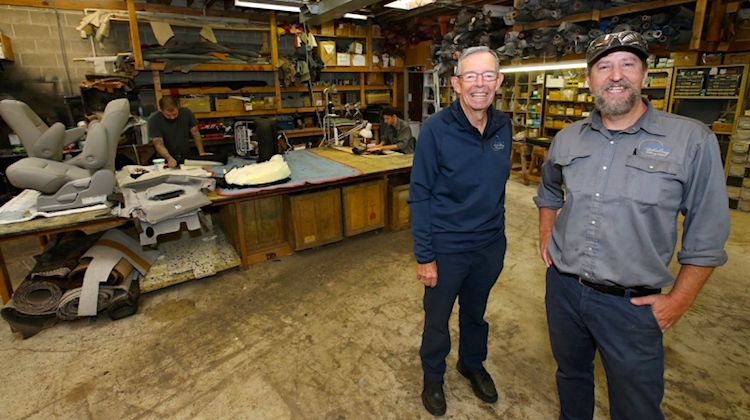 As Tommy's Upholstery in Victoria, Canada, enters its 70th year in business, it's owners can't help but reflect on how far they've come and what it took to get here.
"I still love this business, and I love that my family are in it," Doug Thompson told the Times Colonist.
At 74 years old, he still comes to work every day to repair car interiors — and wouldn't have it any other way.
Tommy, his father, founded the business 1949, after learning the craft from a man who repaired the upholstery in horse-drawn carriages. Doug bought out his father in 1976. And in 2015, sold it to his daughter Wendy, and her husband, Chris Mandorla.
Running the business wasn't always easy, said Doug. And he predicts it will only get tougher.
"It's bittersweet," he said. "It is wonderful to keep it going, but I also know the pitfalls coming down the pike."
Among those pitfalls: OEM interiors are getting better and lasting longer, he said. It's also difficult to find skilled craftsmen.
Still, Doug doesn't fear the family business will die anytime soon.
"I guess I figured people will always have to sit on something and they want to be comfortable," he said. "And people are more demanding with their comfort now. A lot of people used to just put up with a car seat they didn't like. Now they want it fixed."
Their secret to success
That's not all. Doug says there's a secret to the shop's longevity and success: It's their ability to constantly evolve.
When Tommy's Upholstery was founded in the 1940's, all they did was sew and install seat covers. Over the years, they added a long list of services to their roster, including headliners, door panels, carpets and convertible tops.
And whenever automakers come out with something new, the team quickly learns how to repair it and begins offering that service too.
"The business continues to evolve. We are very versatile," said Doug. "We do a lot of different kinds of stuff."
Early on, they recognized that automobiles are constantly changing. So, to stay in business, they would have to change as well.
"We are so nimble that when a new project comes along we can try it," Doug added.
So long as they keep evolving, the family business shouldn't have any problems going into a fourth generation. In fact,  Doug's grandchildren Ben, 16, and Adam, 11, are already learning the craft.
To read the full story, see "Tradition stretches into 8th decade at Tommy's Upholstery."