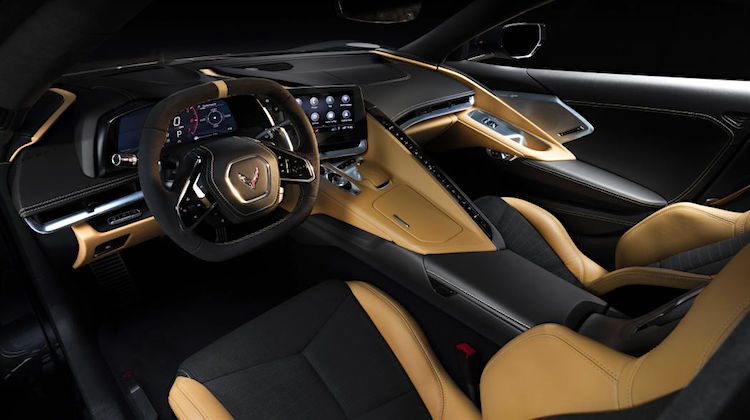 The 2020 Chevrolet Corvette C8 hasn't even hit dealer lots and critics are already raving about its interior, which is reportedly bolder and more luxurious than the C7.
In fact, looking at interior photos, the Corvette C8 does appear to be a marked improvement over the previous model. But how much so?
To better understand the differences, Autoblog interviewed Brett Golliff, Chevrolet's color and trim design manager.
He spoke about designing trim that's easy to wrap, using more leather, embracing seams and 210 thread.
Here's an excerpt:
How did the quality change between the C7 and C8? 
Technically, we're utilizing the same leather, but there's just more of it. Starting on C7, Nappa leather is predominantly what's on the up-level vehicles. The difference is we conveyed a strategy where we're able to do more of it. So when you get an up-level car, it's a fully wrapped leather vehicle from seats to doors to lowers to instrument panel uppers, suede pillars, everything. Which is slightly similar to the C7, but it's just embracing it more.
The other thing that really elevates it in the sense of the leather usage is every stitch that you see on there is genuine to what needs to happen to make that piece. Sometimes you draw some beautiful shapes, but not every shape can be wrapped in leather. Leather is a natural material that has to bend and stretch and flex around corners and how you sew that changes how it looks. So, from the beginning, we embraced shapes that really celebrate wrapped pieces.
One of the main areas is the passenger-side instrument panel. That's a massive piece of leather. It has a rectangular seam near the windshield, and that's just embracing the airbag. We didn't try to hide it. If there is going to be a seam there, we wanted to celebrate it and make it beautiful and part of the quality. Same thing on the door. If you look at the door lower, there's this beautiful french seam that goes from the front to the rear that just follows the flow of the form. Same story. We knew we needed to split the material somewhere to have it taught and wrapped nicely, so we embraced it and made it a part of the aesthetic.
One of the other things we did was up the thickness of our thread throughout the whole car. This might be an internal number that might not resonate, but it was a 135 gauge, now it's 210. Generally speaking, 210 is what you would see on a Euro stitch on a steering wheel, which needs to be thicker to hold the leather around the rim. And we knew by going to that, it was an upgrade in quality but also makes the thread more of a visual of the interior. So on certain interiors like black leather with red, yellow, or blue stitching, that becomes a major piece of the visual of the car. We were really excited to take advantage of that simple change.
Hearing a Chevy designer say these things, a layperson might think it's new, unique or innovative. To be fair, it might be for an automaker that's not exactly know for having great interior design.
Of course, super luxury automakers and independent auto upholstery shops have been doing these same things for years — and, in many cases, have already moved on to the next big design trend.
Still, it's great to see Chevrolet stepping up its game when it comes to the design and trim of the Corvette C8.
To read the full interview, see "Color and Trim Design Manager Brett Golliff talks 2020 Chevy Corvette interior."