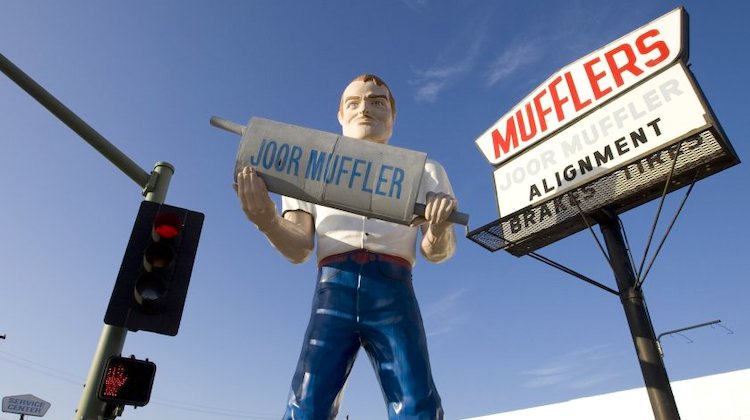 Sickel's Fabrics & Upholstery has helped revive a fun Christmas tradition in Escondido, California — and locals are thrilled.
Joor Muffler & Auto Service, the business directly across the street, has a 20-foot fiberglass statue of a man carrying a muffler in its front parking lot. 
For 25 years, from the mid 1980s to the early 2000s, Joor Muffler dressed the giant statue in a Santa Claus costume, and people would come from near and far to take holiday photographs with it.
But in 2009, owner Nick Manning retired the tradition after repeated attacks from vandals, who stole Santa's boots and even set his pants on fire.
Manning created a new Santa costume, but it wasn't weather proof and a heavy rainstorm turned it pink. "It looked like hell, excuse my French. We tried to dye it but it didn't work. Eventually we just had to give it up," Manning told The San Diego Union-Tribune.
With the economy down and the costume becoming increasingly more expensive to create and maintain, Manning stopped dressing the statue altogether.
But in 2011, after Sickel's Fabrics & Upholstery moved into the building across the street, it's owners began lobbying Manning to bring back the Santa costume.
"My husband is absolutely crazy about Christmas," co-owner Michelle Guillen said of her husband Ray. "He and I grew up in Escondido and we remember the statue being dressed up as Santa when we were kids. It was one of our favorite memories."
After years of discussion and debate, the Guillens finally convinced Manning to let them create a new Santa costume at a reasonable price.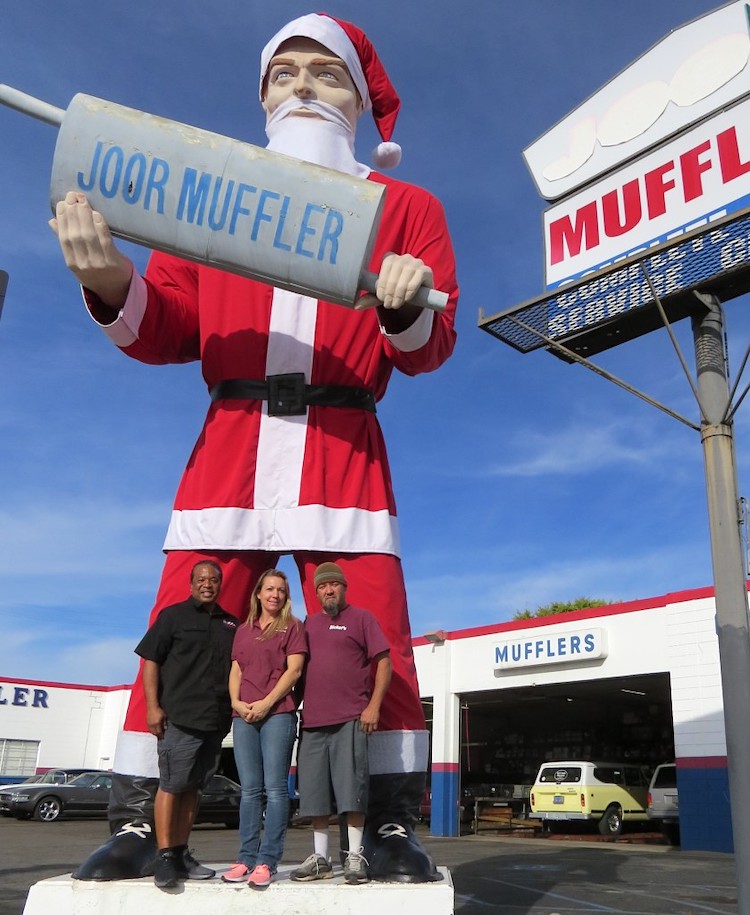 Using the old costume as a pattern, co-owner Felix Guillen created a new one. It was made from 51 yards of all-weather Sunbrella fabric and took 50 hours to complete.
On November 26, six employees from Sickel's Fabrics & Upholstery and Joor Muffler & Auto Service climbed ladders to dress the giant statue, bringing back the holiday tradition.
Since then, entire families have been stopping by day and night to take photographs with the giant statue. It has even impacted traffic, with motorists slowing down to take in the sight.
And just like that, a Christmas tradition is renewed for a whole new generation of kids!