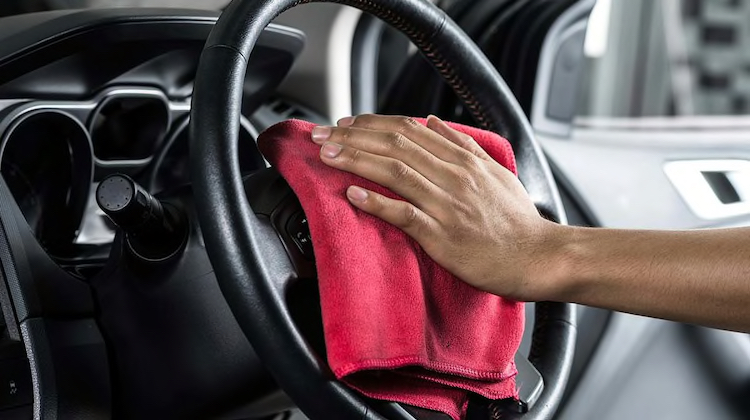 Put down the bleach and hydrogen peroxide. The only chemical you should use to disinfect a customer's car from coronavirus is isopropyl alcohol.
Consumer Reports spoke to experts about how to eradicate the deadly virus without damaging a car's interior. They advised against household cleaners like Clorox Disinfecting Wipes and Lysol concentrate, which are effective in killing the virus, but can also ruin interior trim.
Instead, experts recommend isopropyl alcohol, the main ingredient in rubbing alcohol. It's what Yanfeng Automotive, the world's largest supplier of automotive interior parts, uses to clean and disinfect its products.
"We will use that to clean smudges or any kind of last minute details before we ship the product," said Jeff Stout, executive director for global innovation at Yanfeng.
The company has tested pure isopropyl alcohol on everything from plastic trim to painted chrome to cloth and imitation leather. They found it effective at killing germs, while preserving the integrity of interior components.
The only exception is genuine leather. Isopropyl alcohol can strip away clear-coat protectants and leave the leather susceptible to damage or discoloration, according to Dara Ward, senior marketing director at Katzkin Automotive Leather.
"We do recommend simple Ivory soap and water to clean spots and spills on our leather-trimmed interiors," Ward said. Just don't scrub too hard, as excessive friction can also damage leather.
To protect yourself from coronavirus, wipe down a customer's car interior with isopropyl alcohol before you spend long periods inside it. Make sure to cover areas that get touched a lot — like steering wheels, arm rests, shifters and buttons, Wear rubber gloves and a face mask while you do it.
Isopropyl alcohol is available in most stores, including Walmart and Staples.