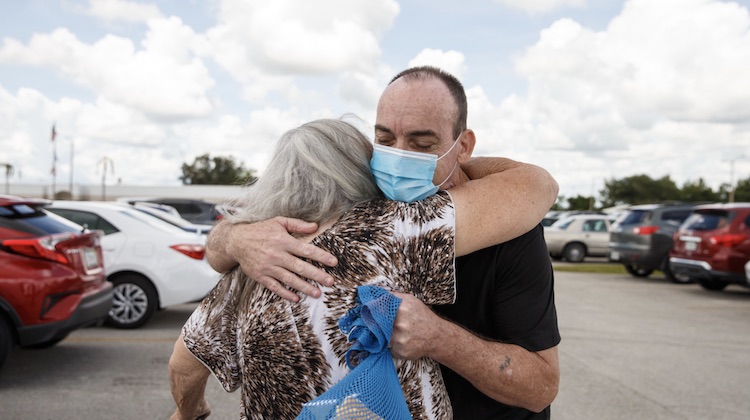 Robert DuBoise was an 18-year-old aspiring auto trimmer when he was arrested and sentenced to death row for the murder of a young woman. Now, 37 years later, he's free and fully exonerated.
At the time of his arrest, Robert was working at a Town N' Country, an auto upholstery shop in Tampa, Florida. He had only gotten into minor trouble with the police — a burglary conviction he describes as a misunderstanding.
But when Barbara Grams' body was discovered behind a dentist office, he and some friends who regularly hung out at a nearby store were quickly scooped up by police and questioned.
Robert had an alibi for the night of the murder. He was home with his mother. Furthermore, neither finger prints nor hair found on Barbara's body were his.
But police focused on a bite mark left on her cheek, which a dentist said matched Robert's teeth. That was enough for an arrest and trial.
Robert was ultimately found guilty and sentenced to death row. Years later, his sentence was reduced to life in prison. But for Robert, it was all the same.
"The hardest part is just trying to figure out why," has said, according to Tampa Bay Times. "How can this be happening?"
"I kept thinking, I'm going to wake up tomorrow and just see that it was a bad dream. But every day, I woke, and the bars were still there."
Living with notorious men and in constant fear for his life, Robert had all but given up hope when he met Susan Friedman in 2018.
Susan was a lawyer for the New York-based Innocence Project, which works to release men and women who they believe are wrongfully incarcerated.
She filed appeals and petitions on his behalf, and even consulted Adam Freeman, an expert in forensic dentistry, to reexamine the bite mark on Barbara's cheek.
Adam concluded that it wasn't a bite mark after all. In fact, it was too large to be a bite, and the supposed teeth marks were too round to be teeth. Whats more, a secondary review of DNA left on Barbara's body revealed that two men were involved in the crime, neither of which was Robert.
Days later, after serving nearly 40 years in prison for a crime he didn't commit, Robert was free.
"Now the world knows DNA proves I did not commit this crime," Robert said in a statement released by the Innocence Project.
"To walk out of this nightmare and hug my mother and sister after almost four decades, knowing I was innocent is bittersweet. I can never regain the birthdays, holidays and precious time I lost with them, never mind the life I could have made for myself. I am grateful to be here, now with a chance to move forward, but I know there are more innocent people like me still behind bars."
To read the full story, see "An exonerated man adjusts to life in Tampa after 37 years away."