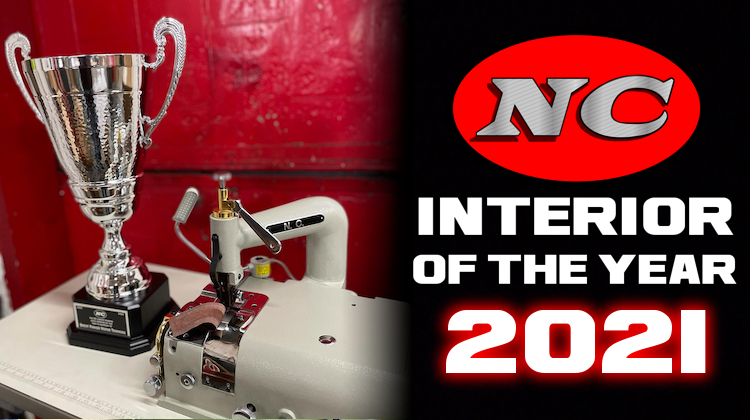 The top five finalists for the 2021 NC Auto Interior of the Year award have been chosen!
With so many talented shops submitting gorgeous interiors for consideration, our judges had a tough choice. They reviewed the entries, argued over the details and narrowed the field to the following finalists.
Click on the photos to see more interior shots!
NC Carpet Binding & Equipment will announce the grand prize winner on Friday. That shop will take home the top prize: a giant trophy; NC Leather Skiver, complete with a servo motor workstation + vacuum system; and $2,500 gift certificate to Douglass Interior Products. That's a $4300 value.
Next week, NC will open up voting to the public for the "People's Choice Award." You'll be able to pick which of these five interiors you like best!
Special thanks to the judges: Stitchcraft Interiors, Cato's Custom Upholstery, Sewn Tight Interiors, Bux Customs, Custom Stitching Co., Customs by Vos, Interiors by Shannon, NC Carpet Binding & Equipment, Douglass Interior Products, and The Hog Ring.
To learn more about NC Carpet Binding & Equipment and check out their high-quality sewing machines, visit N-CCarpet.com and follow them on Instagram.  Also don't forget to tune in to NC's new Podcast "NC SHOP TALK."
You can visit Douglass Interior Products at DouglassInteriorProducts.com and follow them on Instagram.