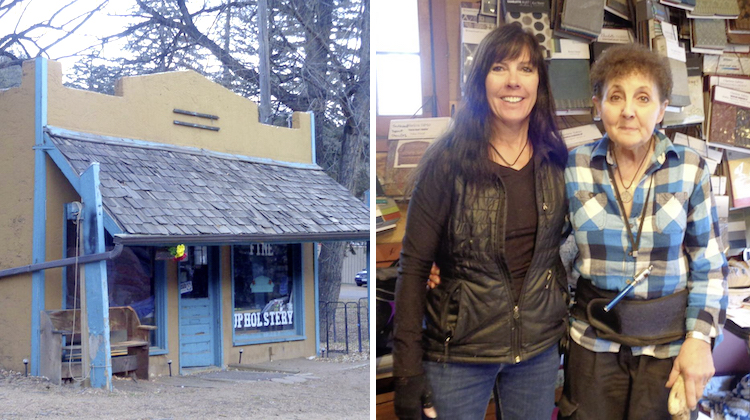 Trimmer Kat "Gail" Aleana Bridenbaker of Green Mountain Falls, Colorado, has died at age 77.
Kat co-owned Rocking K Upholstery with her daughter Deanna LeBeau. Together, they built a successful shop that repaired auto, marine, commercial and household upholstery.
The beloved grandmother died of smoke inhalation on November 9, after a fire broke out in her home. Her Great Dane, BBBurt, also perished in the fire.
Investigators ruled the fire accidental, determining it was caused by an electrical short in the heating pad at the foot of her bed.
Kat earned a degree in upholstery in 1979 from Pikes Peak Community College and launched her first upholstery shop in the front porch of her then-Colorado Springs home.
In 1990, she and a friend started a crafts shop called Rocking K Corral, which mainly made wooden horses with custom upholstered saddles. They sold them at fairs and other community events.
Eight years later, Kat moved to Green Mountain Falls and started Rocking K Upholstery. In 2014, her daughter joined the business. It would later expand to include grandchildren Jake LeBeau and Kristie Bridenbaker.
Together, they worked hard and built a successful family business, trimming everything from car seats to boat cushions.
Kat was particularly admired throughout her community for being a business leader and reliable source of advice and support.
"She was the go-to person; everybody would always go to mom with their problems, including myself, and she would brainstorm solutions," Deanna told Pikes Peak Courier. "It was always about solutions and that's pretty much how she ran the upholstery business."
In 2020, after a long and accomplished career in the trade, Kat retired at the age 76. Her family carried on the business.
Sadly, Kat died one year later in the house fire. A GoFundMe campaign created by her granddaughter Meghan Busnardo reads: "We are absolutely heartbroken with the loss of our wonderful mother, grandmother, and friend."
May she Rest In Peace.
Related Stories: