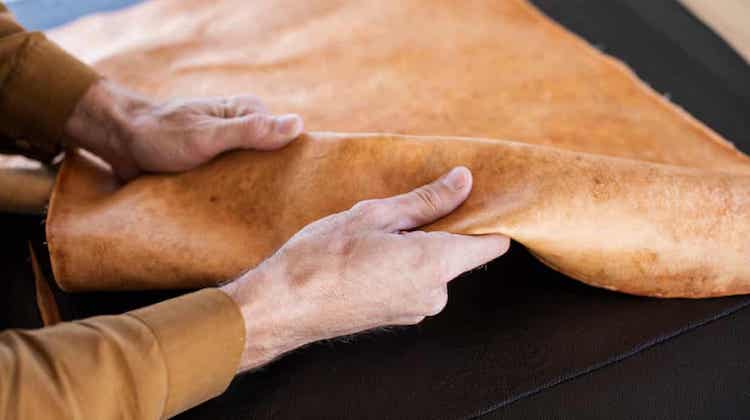 Remember when having fungus growing inside your car was a bad thing? Well, times have changed.
The Guardian recently profiled biomaterials company MycoWorks, which is pioneering mycelium, a material derived from fungi that can be made to look and feel like leather.
Unlike genuine leather, which is sourced from cattle farms, this "mushroom leather" is grown in only a matter of weeks in a lab. Proponents say it out performs leather in both strength and durability. It's also carbon-neutral and biodegradable.
What's more, mushroom leather can be grown in specific shapes and sizes, eliminating waste altogether.
Matt Scullin, CEO of MycoWorks, said the new material is "revolutionary" for designers and the environment.
For now, MycoWorks is focusing on the fashion industry. In fact, mushroom leather was recently used to make an exclusive Hermès handbag. But the plan is to expand its usage.
"We are working with luxury fashion first because they are ahead of the curve when it comes to sustainability," Scullin said. "These are brands which are in a position to think big and to think long term."
Eventually, MycoWorks aims to introduce its mushroom leather to the automotive industry. But before it does, automakers need to find sustainable alternatives to materials and supplies used in the creation of interior components — such as adhesives and plastic fasteners.
"We can bring biodegradeability to brands, but there is a big problem in the industry with thinking sustainably about a finished product," Scullin said.
Of course, mushroom leather isn't totally unheard of in the auto industry. In 2017, we reported that Bentley Motors was  experimenting with jellyfish and mushroom leather.
For now, at least, mushroom leather is some time away from being used in our industry. But, like other alternative fabrics, it definitely looks to be in our future.
To read the full article, see "Californian firm touts 'mushroom leather' as sustainability gamechanger."
Related Stories: