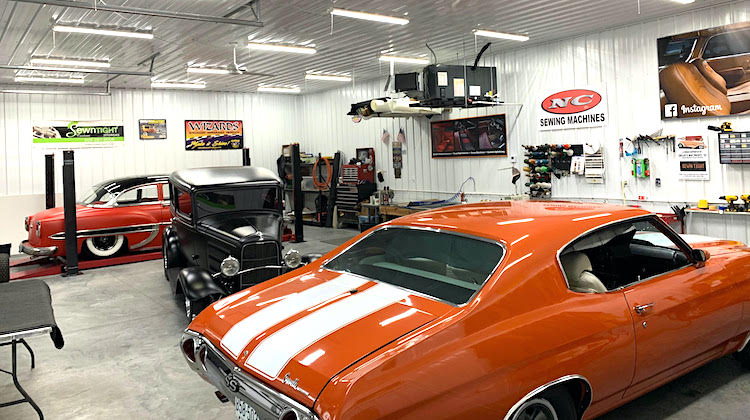 Every auto upholstery shop can benefit from having a clean and organized workspace.
It'll improve productivity, quality, team morale, safety and even customer satisfaction. All of which have a direct and significant impact on a shop's bottom line.
But with trimmers working long hours, it can be difficult finding time to clean house. And even if time is made, some trimmers may not even know where to start.
I suggest the 5S Principle, a method invented in Japan and used throughout many industries to optimize workspaces. I've experienced the benefits firsthand after employing the 5S Principle in my own shop, Sewn Tight Custom Interiors.
The 5′ refer to the five dimensions of workplace optimization:
1. Sort (Seiri)
The first step is to clear out clutter, old inventory, items not used, and broken tools and equipment.
We all like to hang onto things we may need one day. But if we're not careful, our shops can become overrun with items we never use.
Take time to sort through your business' belongings and set aside anything that's not necessary for near-term work or profitability. Basically, anything you don't use on a weekly or monthly basis shouldn't be in your shop. It's these items that you'll sell, donate or throw away.
For example, with online and mail orders arriving so quickly, there's no longer any reason to maintain a large inventory of materials and supplies. Most shops can get by with ordering just what they need for a job. Of course, there are exceptions for rare or special-order items. But these can always be organized and stored on hanging shelves that free up floor space.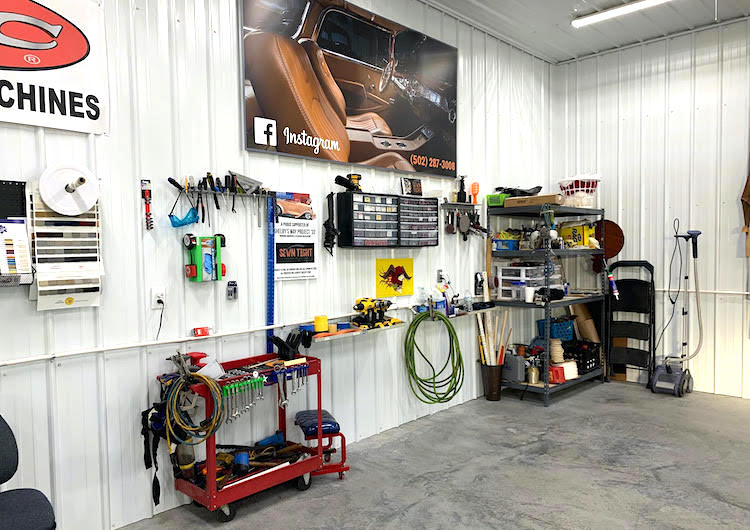 2. Set In Order (Seiton)
The second step is to organize those items that you will keep so that they're exactly where you need them.
This step refers to everything you need to run a successful shop — including fabric inventory, supplies, tools and large equipment.
You'll want to organize everything in a manner that allows you to maximize efficiency and frees space in your workroom. For example, you may decide to arrange fabrics by type and color. You may also decide to hang retractable air hoses from the ceiling, so they're not left on the floor for people to trip over.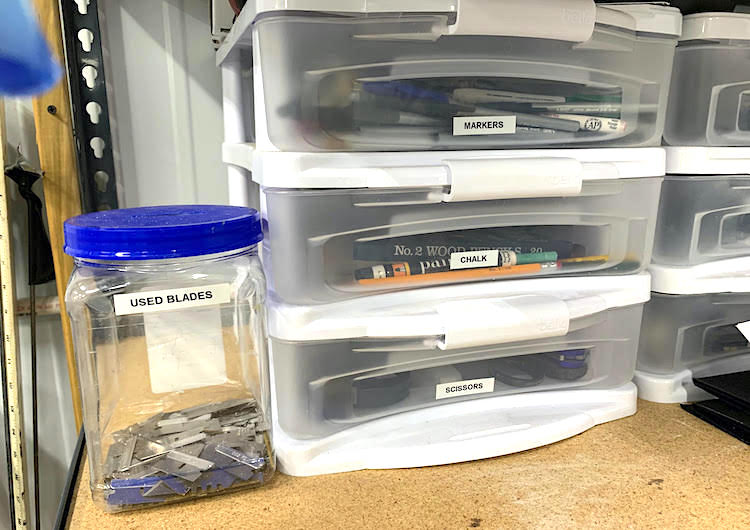 3. Shine, Clean Up (Seiso)
The third step is to clean your shop.
This isn't a quick sweep and wipe down. Rather, it's a deep cleaning — including floors, walls, and those hard-to-reach spots behind large equipment. Even wiping off light fixtures can brighten a workspace and provide better visibility.
If your budget allows, give your shop's walls a fresh coat of paint and upgrade your lights. It'll do wonders for team morale.
Lastly, don't forget to take care of your tools and equipment. Clean and serviced machines can save you a lot of money down the road on repairs.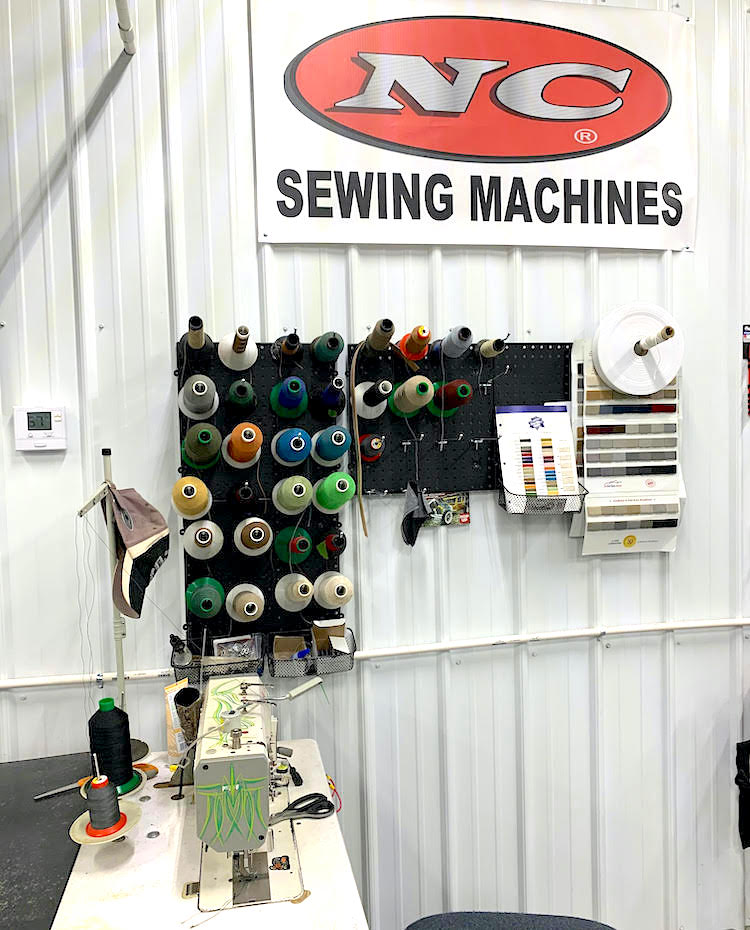 4. Standardize (Seiketsu)
The fourth step is to standardize the location of every item in your shop.
If every item has a set place, everyone in your shop will know where to find and return tools and supplies. This makes it easy to maintain your newly organized workspace and helps maximize efficiency.
For example, if your air tools are all hung in the same spot everyday, they will be easy to find. At the end of the day, you can glance over and immediately know if a tool is misplaced or lost.
What's more, having labeled drawers or bins for screws, fasteners, drill bits, etc. makes it quick and easy to retrieve those items when needed. It also makes it easier to know when those items are low and need to be reordered.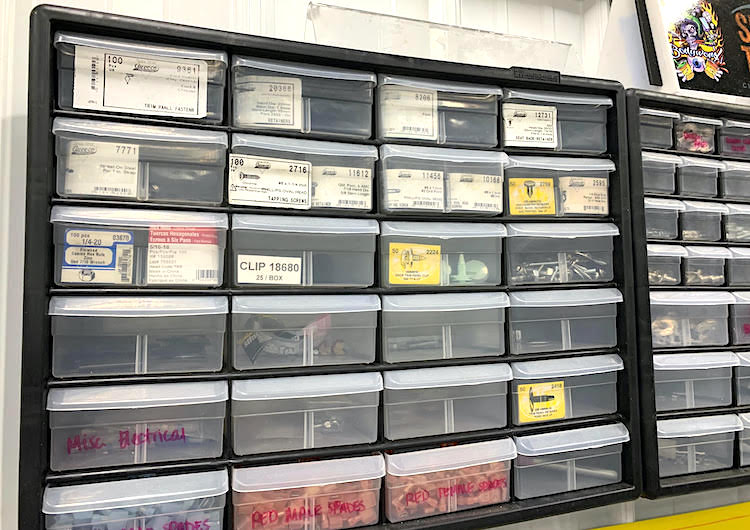 5. Sustain (Shitsuke)
The fifth and final step is to sustain your shop's cleanliness and order.
This step is far easier than it sounds, as it takes less time to maintain an organized shop than it does to organize it from scratch.
But you must commit. Otherwise, you'll have completed the first four steps for nothing, and will eventually have to start all over again.
How the 5S Principle can help your shop
For many auto upholstery shops, shutting down for a couple days to apply the 5S Principle can sound overwhelming. After all, time is money.
But doing so might actually be the antidote you didn't realize your shop needs.
Every day, we find ourselves wasting valuable time looking for tools, screws or parts. We clean off one spot to tear down a seat because the last spot has become a catch-all full of tools and parts we keeps saying we'll get to later. But for many of us, later never comes.
The quality of our work may be top notch, but when potential customers walk into a shop with tons of clutter, dim lighting or a dirty work area, it gives them pause and may even be limiting profitability. After all, it's difficult to charge a premium price for work that looks like it's being performed in a dump.
A thorough cleaning and reorganizing will breathe new life into your shop, and make it more efficient and productive. A less cluttered space will also appeal to customers, who will be more willing to trust you with their cars.
It's time to take control of your business. Apply the 5S Principle and see the difference it makes.
---
Shane Lile is owner and operator of Sewn Tight Custom Interiors in Louisville, Kentucky. To learn more about his shop, visit SewnTight.com. You can also follow him on Instagram and Facebook.