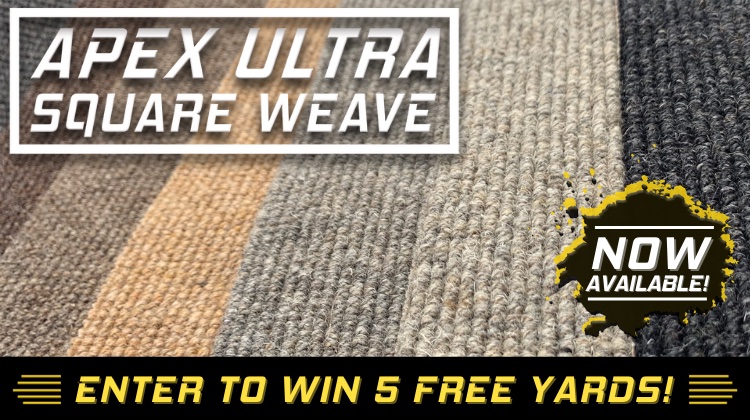 Have you been searching for a high-quality automotive carpet? Well, look no further because Apex Ultra Square Weave has arrived!
Developed exclusively by Apex Leather to meet the needs of the automotive industry, Apex Ultra is made in the USA, 100% wool, and offers a truly superior weave. It's also made to prevent "grinning," where the underside of the carpet shows through when it's laid over contoured surfaces.
Don't let the luxe appearance fool you, Apex Ultra is also extremely durable.
"We were very pleased with the quality of Apex Leather's square weave carpet," said Clinton Cannaday of Bombshell Speed and Custom. "It's currently being installed in a '64 Cadillac El Dorado and it is very flexible and easy to work with."
What Makes Apex Ultra Stand Out?
Apex Ultra Square Weave is a premium commercial-grade carpet that is highly abrasion and stain resistant. It also meets stringent automotive standards for flammability.
Equally important, Apex Ultra is designed with auto trimmers in mind. With high flexibility, you might find those tough-to-reach spots just a little easier. "The carpet lays down so smooth," said Shane Lile of Sewn Tight Custom Interiors. "It's like putting butter on bread."
Woven in the USA, Apex Ultra came through genuine research and development. Flexibility is key but you absolutely don't want "grinning," which was addressed by increasing the thickness of the carpet fibers. "The Apex Square Weave is thick but soft and very easy to sew with," Brett Harbison of Concord Customs explained. "I really like that the weave is tight so that when contouring you can't see through the carpet."
Apex also heard trimmers when they said that it can be challenging to match leather to carpeting. That's why they offer Apex Ultra in 12 colors, and even designed them to match their popular range of Fusion leathers.
Brand new to the market, Apex Ultra Square Weave is sure to impress!  Check out the video below to see Apex Ultra in action:
Apex Ultra Square Weave Giveaway!
In celebration of this exciting new product, Apex is GIVING AWAY 5 FREE YARDS of carpet to one lucky shop!  Any color, for any project, 5 free yards are all yours.
Keep your eyes on their Instagram for ways to enter this killer giveaway!
How to Buy Apex Ultra Square Weave
Apex Ultra Square Weave is only available through Apex Leather. It is stocked and ready to ship!
For a limited time, a FULL Apex Ultra Square Weave Sample Set is only $9.99 + shipping (regularly $25.00) and Individual Samples are $.99.
You can order through their website, or by calling 800-402-7195.
Based in Hickory, North Carolina, Apex Leather is a leading provider of aftermarket automotive solutions. They have decades of experience in leather production, and strive to be a "one stop shop" for auto trimmers. They carry smooth, natural, and pebble grain auto leathers, Serafil threads, Dinamica Microsuede, and now Apex Ultra Square Weave.
For more details, check out www.ApexLeather.com, or follow Apex on Facebook and Instagram. Apex is ready to help you take your auto interiors to the next level.