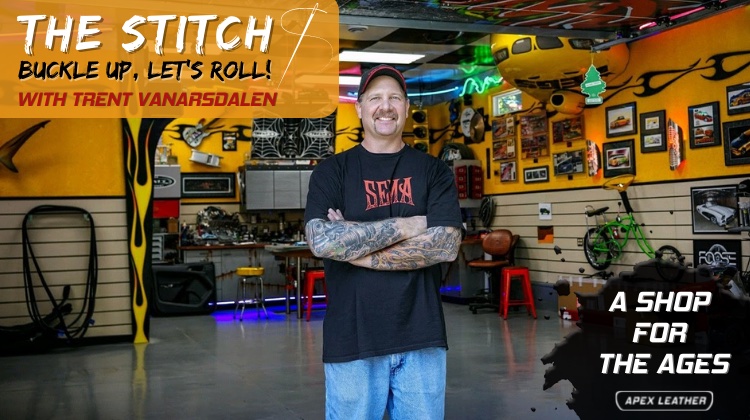 Trent VanArsdalen of Trent's Trick Upholstery is quick to remind you that he is just a "small shop, in Ohio" — proof that he's as down to earth, as he is talented.
With award-winning builds at SEMA since the mid-90s, his creativity and passion for detail is unmatched. Considering himself a "car guy" first before an "interior guy," Trent does it all. His ability to envision, design, and execute is truly legendary. From winning his first GM Design award in 2004 for his Chevy Colorado, to bringing home the Mother's Choice Award in 2015, what sets his builds apart?
Going It Alone (Sort Of)
From the very beginning, Trent had a vision. With a background in fabrication, specifically mechanical insulation, he was no stranger to an industrial sewing machine. He had plenty of experience problem solving, getting creative, and getting it done. A car enthusiast for as long as he can remember, he especially loved his 1988 Chevy S10. In 1989 a local auto upholstery shop told him the interior he wanted was "only for hot rods."  His wife of 32 years, Tricia, asked what he was going to do next… and he said he was just going to have to try it himself.
Trent taught himself auto upholstery pre-internet, and pre-Youtube. He went to a local upholstery shop to order material for his truck, and one of the employees asked if he was working on a S10. They became fast friends, with the employee also owning a much loved S10. He offered to help and the rest is history. He helped Trent sew the seats and was there with tips and an extra hand. Once Trent had the hang of it, there was no turning back. At the time, Trent was the president of his truck club, and when they saw his work, business took off.
A Shop with Style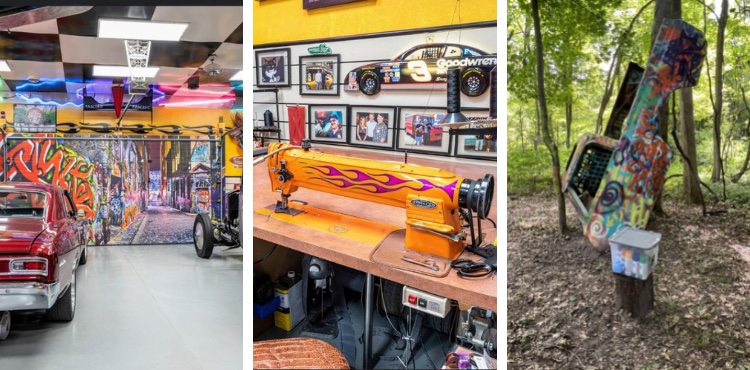 Trent worked out of his home garage for years, but when he and Tricia moved twenty years ago, he built a shop on the property.  Of course, "shop" is an understatement! Trent's mission was to make "anything that is standard in a shop, to be custom in his." The myriad of jaw-dropping floor to ceiling detail is unreal, and extends from the laser cut stainless steel garage door hangers, to custom graffiti walls, to a bathroom made for an episode of "MTV's Cribs."
Trent's shop is both incredibly designed and functional. A custom sewing table, complete with his signature flames, also manages to keep his tools right where they should be. A separate work area houses "where all the dirt happens," keeping fabrication and expected mess separate from the pristine garage. Not to mention a set of "stairs to nowhere," when the shop's white checkered ceiling opens into a hidden storage space.
"Storage space" may conjure up images of open boxes, and random supplies but that's not his style. Awards and memorabilia live here, along with organized stacks of fabric, foam and our personal favorite, a variety of Apex leathers hanging neatly from the ceiling.
SEMA or Bust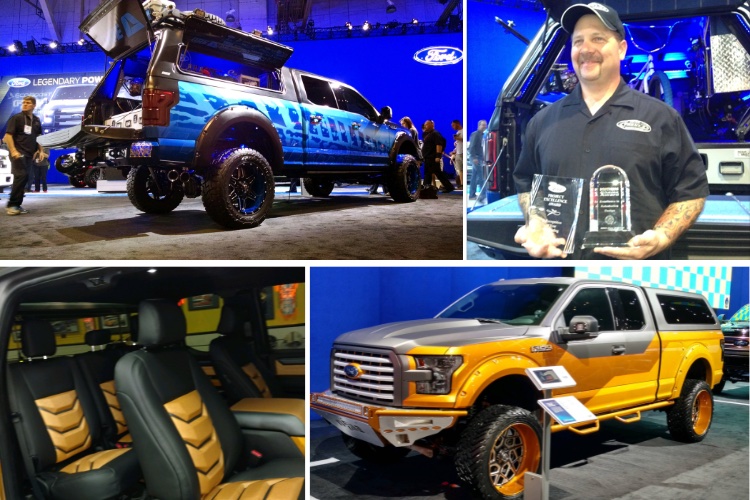 Getting to SEMA for the first time was a unique experience for Trent. In the 90's, Trent was recruited by Bogy Troxel, president of the American Sport Truck Association, to help with the interior of a truck he was building for SEMA. Trent remembers thinking "that sounds crazy, going all the way to Vegas for a car show!" However, SEMA did happen and along with Tricia, he began building a reputation for excellence and more partners came calling.
Over time, both GM and Ford reached out to Trent, and encouraged him to apply for his own cars — receiving a total of six vehicles. These partnerships resulted in award-winning full builds for the General Motors and Ford booths at SEMA. Trent designed these from start to finish — suspension, brakes, wheels, tires, and full interiors. He helped design the paint schemes, and brought the cars from concept to reality. More collaborations with A.R.E. Truck Caps, and most recently Air Lift Performance, keeps bringing Trent back to Vegas.
Speaking to Trent about his decades of amazing designs at SEMA, you might think he took home a few awards here and there. In reality, there have been many. One of his favorites was the Mother's Choice Award, reserved for the top 10 vehicles in the show. A ribbon was placed in the dashboard of the truck, and he was invited to an award's ceremony. Thinking it was a participation event, Trent was relaxing in the crowd when he heard his name called as having one of the top 10 builds in the show. He was blown away.
Staying Inspired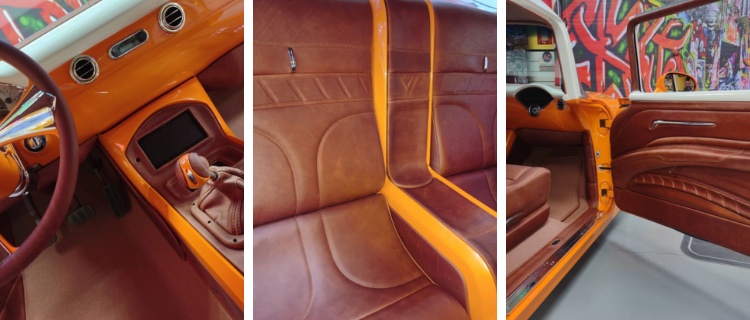 Today, the majority of his business comes through word of mouth. He also has a few local  shops he likes doing interior work for. He completes 10-15 vehicles a year, and generally does full custom car interiors, in addition to some convertible tops. He worked solo until two years ago, when he brought on another employee, Shawn Appleman.
While specializing in muscle cars and hot rods, he's not afraid of some restoration work. He recently restored both a 1934 and 1973 Rolls Royce. He was surprised at how similar the interior was, structurally, to what he works on day-to-day in street rods.  The advancement of the design of those vehicles, compared to the custom work he does now, reminded him that "you think you are coming up with something new in the last 10 years, but you see it in a 1934 Rolls Royce, and remember they were that far ahead of everybody."
Never lacking inspiration, Trent recently built a  truck for A.R.E. that was an extreme sports vehicle. It had BMX bikes, skateboards, a GoPro charging station, and a helmet rack that he fabricated out of bicycle inner tubes.
What Sets Trent's Builds Apart?
More than anything, Trent listens to his customer. He gets a feel for what they want, and their style, and goes from there. Not to mention, no two builds are the same.  No…really, nothing is the same. Each door handle, every door panel, is unique to that specific build. Trent's signature on a build, is that there is no signature — every vehicle stands on its own.
A lot of past customers have also become good friends. With photos, and gifts scattered throughout the shop, it is obvious that Trent himself makes an impression as lasting as his skilled builds.
Words of Wisdom From a Pro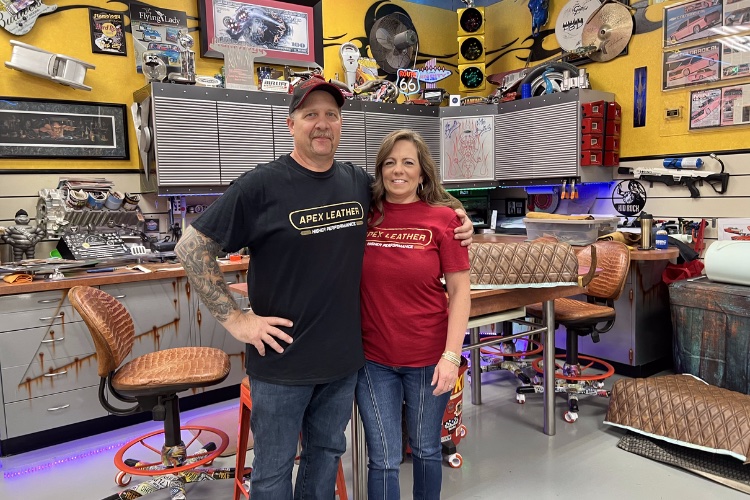 Tricia and Trent both love connecting with up-and-coming upholsterers, and even with kids who just love cars. Tricia loves to see Trent's passion and talent inspire others to jump in.
Trent credits his career with "being in good places at good times," and has been able to build a great reputation. When Trent started in the late 80's and early 90's he worked mostly with tweed, which he says is a much more forgiving material to learn with. Today, auto upholsterers starting out are jumping into the industry working with leather and vinyl, which show every flaw.
For those interested in teaching themselves, he recommends starting on your own vehicle. Most importantly, he emphasizes being patient, and to never stop learning. Trent says he is still learning, even after 30 years.
---
Emily Hylton is a member of the Apex Leather team. "The Stitch" is their new series highlighting exceptional talent in the craft of auto upholstery. To learn more, visit www.apexleather.com and follow them on Instagram and Facebook.