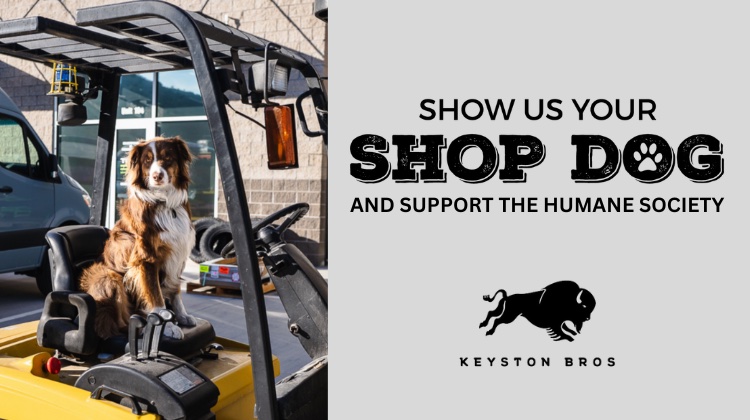 Keyston Bros is celebrating every trim shop's favorite and friendliest staff member — its shop dog!
Consider submitting a photo of your pooch for inclusion in their 2023 Shop Dog Calendar. It's a great way to honor your furry friend, highlight your shop and even win a prize.
"Our annual Shop Dog Calendar will brighten your year," said Brooke Kahn, VP of Marketing for Keyston Bros. "Help us to spread joy and positivity to trim shops by submitting a photo of your pup for our next calendar."
To be considered for inclusion, snap a horizontal photo of your dog on the job. You'll want to use a good camera to ensure the photo is high resolution and can be blow up without getting blurry.
Email the photo to shopdog@keystonbros.com by October 28. Be sure to Include your dog's name, shop name and location.
If your photo is chosen for the calendar, Keyston Bros will award you $25 off one order of their exclusive products. You could even win toys for your little furball.
That's not even the best part! For every photo submitted, Keyston Bros will donate $5 to the Humane Society. They'll also match individual donations to the organization, which fights cruelty and neglect of animals, up to $1,000. Simply click here to donate and email your receipt to shopdog@keystonbros.com.
"What an awesome way to honor your pup and contribute to a great cause," said Kahn. "Let's show our shop dogs we care."
Keyston Bros serves numerous markets, including automotive and marine. With 19 warehouses and branches across the United States, there's always a Keyston Bros location close by. Contact your nearest branch for details on their Customer Appreciation Day event.
To learn more about Keyston Bros, and create a shop account, visit keystonbros.com. You can also follow them on Facebook and Instagram. And don't forget to check out their Auto Upholstery Supplies Catalog too.