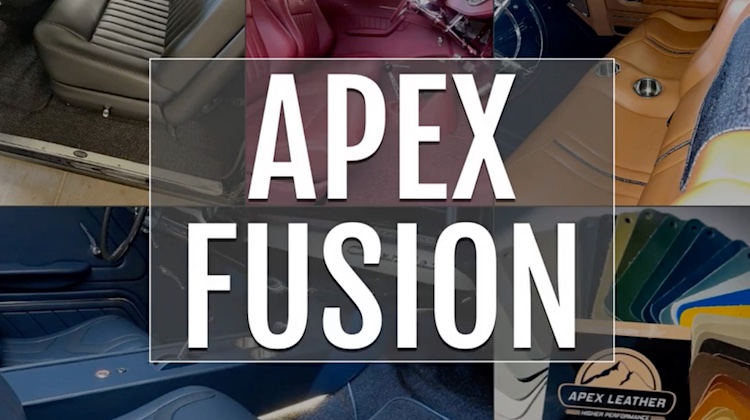 Like a lot of auto upholstery shops, we've seen the ads for Apex Leather's line of ultra luxe Fusion leather, and were intrigued by its claim of "high performance and style."
We wanted to know: What does that exactly mean? How does it look and feel? And, most importantly, how does it stack up to other automotive leathers?
Earlier this month, we got our hands on a hide of Fusion leather and put it to the test. Check out our review to find out if Fusion lives up to the hype.
What is Fusion leather?
Fusion is Apex's flagship line of automotive-grade leather. It's Italian, ultra premium and smooth grain – but not perfectly smooth, otherwise it wouldn't be genuine leather.
At the moment, Apex offers six types of leather – including Fusion (smooth grain), Retro and Classico (natural grain), Legends (heavy weight), Renegade (distressed) and Metal Head (metallic).
They all have a unique look and feel, and lend themselves to different style vehicles and projects. But Fusion stands out for its versatility – able to blend into just about any interior and elevate its style.
Come to think of it, maybe that's why they call it "Fusion"…
How does it look and feel?
Like Butter. But let me explain…
Fusion is incredibly soft, like no other leather I've felt before, and there are little to no imperfections. In fact, it's so silky and smooth you'll wonder if it's really automotive grade (It definitely is).
Our hide was "Fusion Turbo," which is a beautiful shade of red. It's one of 48 vibrant colors available, including unique shades like "Fusion Plum Crazy," "Fusion Thin Ice" and "Fusion Winter Haze."
If you're looking for their top seller, it's definitely "Fusion Black Pearl."
Is Fusion easy to work with?
Most definitely. Fusion is pliable and has decent stretch for covering 3D trim. But it's not so stretchy that you'll have to worry about your upholstery developing wrinkles over time.
Fusion also offers great yield. That's because the finish and quality is superb all the way to the perimeter of the hide. Not having to cut around many imperfections means you really get your money's worth.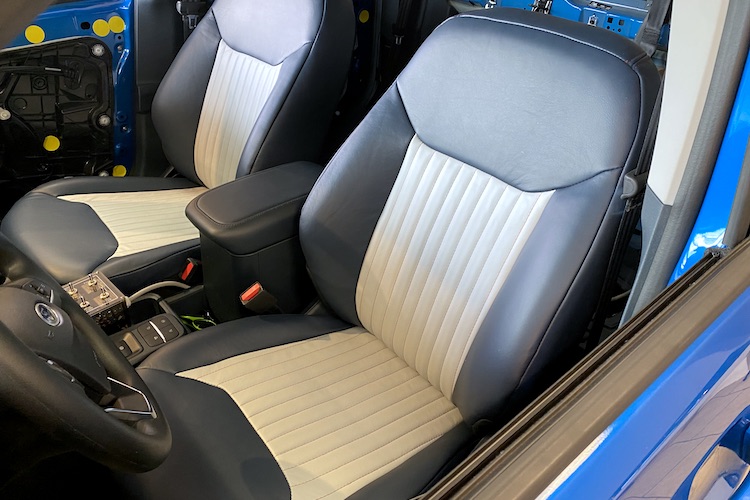 What about its performance and durability?
Don't let the soft and silky nature of Fusion fool you. It's extremely durable. In fact, Fusion surpasses all the requirements for leather to be considered automotive grade – not just in the tanning process, but also in performance testing.
A recent DEDALO report showed Fusion's UV resistance far exceeds industry standards. Moreover, it withstood 2,000 dry rubs, fully retaining its color and finish. That puts Fusion in very rare company.
So while Fusion looks and feels like a leather that should only be put in high-end show cars, it's durable enough to be used in daily drivers. That's the ideal!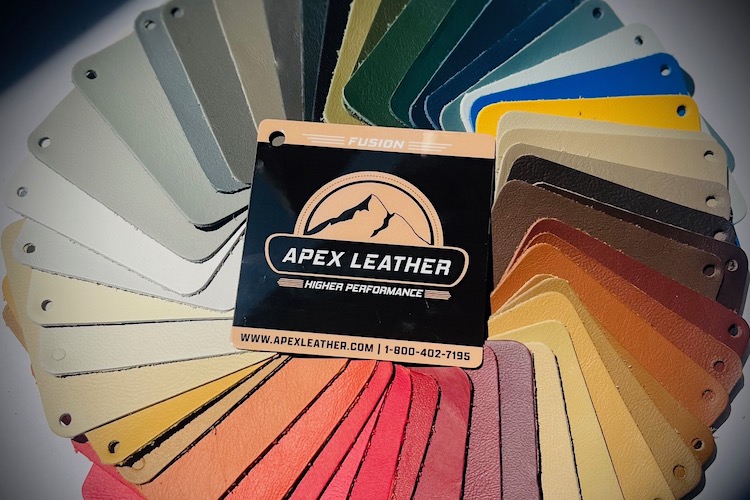 Who else is using Fusion leather?
Take a look on social media and you'll notice a lot of top-level trim shops are already using Fusion in their custom interior projects. That's because they know it's tough to beat Fusion's premium look, feel, and quality.
Here's what some have to say…
Justin Jones of Circle J Custom Upholstery in Blanco, Texas: "The Fusion Line felt great and is very nice to work with, and Apex Leather's customer service is great."
Jeremy Bumpus of The Hot Rod Shop in Corinth, Mississippi: "I made the swap to Apex Leather and used their Fusion Line last year. It's been the best decision I've made in upholstery. Their quality, the textures, and colors but most importantly for me the stretch has been the best I've seen and used, and that's why now every build in my shop gets this leather."
Daniel Arevalo of Daniel's Custom Auto Interiors in Sanger, California: "It is a pleasure to work with Apex Leather. The Fusion Line is a high-quality leather with a nice smooth finish."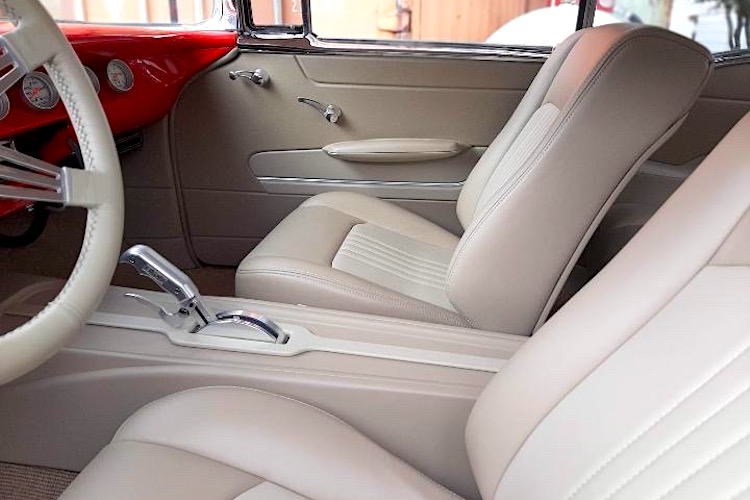 How do I order Fusion leather?
Apex Leather describes Fusion leather as "the perfect combination of performance and style" – and we agree. But the kicker is the price!
It varies by size and color, but an average full hide of 50 square feet is $275. Half hides are also available. Other leathers comparable to Fusion sell for hundreds more.
Apex is able to offer trim shops these prices because they don't just distribute leather, they produce it too. Therefore, they knock out the middleman and pass the savings along to trim shops.
You can view all 48 colors of Fusion and place an order online at apexleather.com.
While there, check out their other great products, including Serafil threads, Dinamica Microsuede, and Apex Ultra Square Weave carpet. Also be sure to follow Apex on Facebook and Instagram.
Related Stories…